Asche exits finale in first after taking throw off chin
Asche exits finale in first after taking throw off chin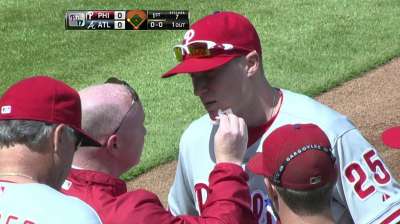 ATLANTA -- Phillies third baseman Cody Asche left Sunday's 12-5 loss to the Braves in the first inning when a throw from left fielder Domonic Brown gashed him in the face, causing him to bleed profusely.
Asche received seven stitches, and Freddy Galvis replaced him at third base.
"It definitely wasn't an ideal way to go into the offseason, but baseball will do that to you," he said. "I have a nice scar to remind me of my first last game [of a season] in the big leagues. It hit me and I was kind of stunned, then I saw [Justin] Upton running to second, so I picked it up and threw it right away. Then after I touched it and it was kind of slippery, I thought, 'That doesn't feel right.' I looked down, and I had blood on my pants and everything."
Asche, 23, hit .235 with eight doubles, one triple, five home runs and 22 RBIs in 162 at-bats, but finished in a 2-for-31 slump. He is the favorite to be the team's Opening Day third baseman next season.
"I'm very grateful to have this experience, for sure," he said. "Not many guys get this opportunity to play every day and learn on the fly. I consider myself lucky to have that opportunity. I think I've learned a lot from it and it will help me moving forward in my career."
Phillies manager Ryne Sandberg said Asche probably tired down the stretch as he played the most baseball he has played in his career.
"I'm not ever one to try to make an excuse for myself," Asche said. "Whether you want to admit it or not, baseball will do this to you. It happens to the best of them. It's something you have to learn from. It's character-building. I think the 50 or so games I was here reassured the confidence that I have in myself, that I can be an everyday player and part of a winning team."
Todd Zolecki is a reporter for MLB.com. This story was not subject to the approval of Major League Baseball or its clubs.