Kotsay finishes career with 'happy' strikeout vs. Zito
Kotsay finishes career with 'happy' strikeout vs. Zito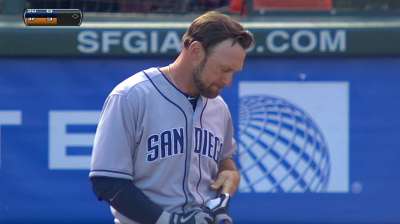 SAN FRANCISCO -- Mark Kotsay had a special moment with a former teammate on his final day as an active Major League player.
Barry Zito came in to face Kotsay in the eighth inning of the Padres' 7-6 loss to the Giants on Sunday and struck him out. It was Kotsay's final at-bat and Zito's likely final appearance as a Giant.
"If I had to strike out in my final at-bat, I'm glad it was against a former teammate whom I respect and love," Kotsay said. "I'm happy for Barry."
Zito and Kotsay were teammates with the Oakland Athletics between 2004-06.
"We had a lot of fun together," Kotsay said.
When Giants manager Bruce Bochy came out to make the pitching change, Kotsay knew exactly who he would be facing.
"It was a great moment for both of us," Kotsay said. "I texted him and told him that I'm glad it was him out there for my final at-bat."
Zito responded and Kotsay read it out loud for reporters:
"[Heck], man, that was narlier [sic] than the World Series. I love you my brother. I have so much respect for you. I love that it was us together out there. See you soon."
Kotsay appeared in 1,914 games, collecting 1,784 hits.
"Mark had a great career," Padres manager Bud Black said. "He did it the right way. He's crossed a lot of bridges and did it well. He's in a good spot mentally."
Rick Eymer is a contributor to MLB.com. This story was not subject to the approval of Major League Baseball or its clubs.