Halos can't play spoilers, fall to Rangers in finale
Halos can't play spoilers, fall to Rangers in finale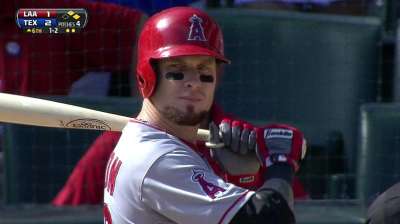 ARLINGTON -- Josh Hamilton jogged back to the visiting dugout at Rangers Ballpark and doffed his helmet to the 40,000-plus fans who will likely boo him forever. Two outs later, the Angels' season would finish with a season-ending 6-2 loss at his old stomping grounds, all the momentum they built over a five-week period crushed with a four-game sweep to a Rangers team that needed to win and did all it took.
On Monday, the Rangers will play the Rays in a tiebreaker game for the second American League Wild Card spot, and Hamilton will be back at his Westlake, Texas, home, kicking back with his wife and four daughters and trying not to think about a season that ended too quickly and didn't go right until the very end.
Just before that, he offered up one last salute to those who used to cheer him.
"To let them know that no matter how bad they boo me or bring up things from the past, I still love them," Hamilton said when asked for the reason. "There was nothing sarcastic about it."
It was somewhat fitting how the Angels' season finished on Sunday afternoon, a byproduct of some of the elements that haunted them throughout the summer.
They hit into three critical double plays, bringing their total to a franchise-record and AL-leading 150. They entered tied for 26th in inherited runners scoring, and one pitch after Jason Vargas exited with one out in the seventh -- after giving up three runs (two earned) -- Juan Gutierrez surrendered a key insurance run on Ian Kinsler's single. And in the eighth, with the Angels' deficit only at two, Ernesto Frieri gave up solo homers to Adrian Beltre and Geovany Soto to bring his total to five in 3 1/3 innings at Rangers Ballpark this season.
The Angels arrived in Texas on a roll, with 23 wins in their previous 33 games. They had a chance to spoil the postseason hopes of their heated division rival, finish the year at .500 -- a mark they hadn't reached since the second game -- and end their trying 2013 season on a high note.
They accomplished neither.
"We're disappointed, but we have nothing to be ashamed about the way our guys went after it this series," Angels manager Mike Scioscia said, his club finishing 78-84 to give him his fourth losing season since arriving in Anaheim 14 years ago. "We definitely were in position to salvage something from what has been a tough year, and we were playing well coming into this. And those guys just stepped up and brought their game up a notch, and we couldn't match it, so we're going to have to get better."
Michael Kohn gave up a walk-off homer on Thursday, C.J. Wilson struggled with his command on Friday, the defense committed a season-high five errors on Saturday and the offense couldn't do enough on Sunday despite getting Yu Darvish out of the game with two outs in the sixth, and now the Angels will go into the winter with an eight-game losing streak at Rangers Ballpark.
At 5:04 p.m. CT, the Angels' fourth consecutive non-playoff season was officially over. At 7:07 p.m. on Monday, the Rangers (91-71) will play the Rays (91-71) in Game No. 163 -- with Texas' Martin Perez facing David Price -- in hopes of reaching the playoffs for a fourth straight year.
"It's been a lot of fun," Kinsler said after the Rangers' seventh straight win. "All seven games were against teams that we know well and against teams we had success against. We were able to take care of business and get to the next game."
For the Angels, the offseason work begins now. It'll start with a potential decision from owner Arte Moreno, who has yet to say publicly whether Scioscia or general manager Jerry Dipoto will return in 2014. After that, it'll be all about trying to bolster a starting rotation that was the Angels' greatest detriment in a year that was also hindered by Hamilton's struggles, Albert Pujols' plantar fasciitis and the absence of new relievers Ryan Madson and Sean Burnett.
One of their options will be re-signing Vargas, who finished 9-8 with a 4.02 ERA in 24 starts while missing nearly two months due to a blood clot.
Next up for the 30-year-old left-hander -- unless something gets done in October -- is free agency.
"I haven't put a whole lot of thought into it other than knowing I'm going to be a free agent," said Vargas, who posted a 4.60 ERA in 10 starts since returning from the disabled list. "I haven't even talked to my agent about it. I wanted to save that 'til the season is done. Now the season is done. We'll see how things play out. This is a great place. I enjoyed it. I have friends here. We'll see how it all works out."
Hamilton's first season in Anaheim -- the first of a five-year, $125 million contract -- ended with a .250/.307/.432 slash line, 21 homers and 79 RBIs. He capped it with a season-high 14-game hitting streak and increased his batting average by 33 points in his last 44 games. And then, just before the curtain closed on his most disappointing year on the field, he saluted the fans who root for the team that will play on.
"They're going to boo me until I stop playing, and I'm OK with that," the former Rangers outfielder said. "I still had a pretty good year here, in this park against them [with a .333 batting average in 10 games at Rangers Ballpark]. It can only get better for me from here on out."
The Angels hope the same for their spiraling team.
Alden Gonzalez is a reporter for MLB.com. Read his blog, Gonzo and "The Show", and follow him on Twitter @Alden_Gonzalez. This story was not subject to the approval of Major League Baseball or its clubs.