Rangers top Halos, force tiebreaker vs. Rays
Rangers top Halos, force tiebreaker vs. Rays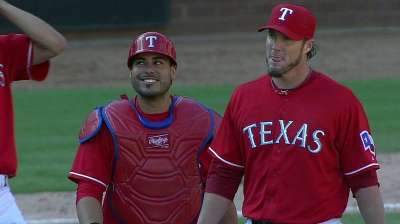 ARLINGTON -- As it turned out, there was no margin for error in this final extraordinary week.
The Rangers needed to win every single game on this homestand, and they did just that. Their reward is a tiebreaker game with the Tampa Bay Rays for the final spot in the American League postseason.
The Rangers, with their seventh straight win, earned that with a 6-2 victory over the Angels on Sunday afternoon at the Ballpark in Arlington. The Rangers and the Rays will face off at 7:07 p.m. CT on Monday night at the Ballpark (watch on TBS), with the winner advancing to the AL Wild Card Game against the Indians on Wednesday in Cleveland.
"We knew we had to win all seven games this week," second baseman Ian Kinsler said. "But there is nothing to celebrate. We have a lot of things to take care of and this is the first step. Tomorrow is the next obstacle."
This is the first time there has been a tiebreaker game for one of the AL Wild Card spots. The Rangers are facing two win-or-else games before they can reach the AL Division Series. But if they win their next two games, they will face the Red Sox on Friday in Boston.
"It has been good and it has been fun," third baseman Adrian Beltre said. "But it doesn't mean anything if we don't win tomorrow."
The Rangers, with the Rays holding off the Blue Jays in Toronto, had to win on Sunday or their season was over. The Angels didn't lay down for them, but the Rangers went ahead for good in the bottom of the sixth on an RBI double by Geovany Soto against Angels starter Jason Vargas.
That made it 3-2, and the Rangers added another run in the seventh. Craig Gentry led off with a single, stole second, was bunted to third by Leonys Martin and scored on a single by Kinsler off reliever Juan Gutierrez. Home runs by Beltre and Soto made it 6-2 in the eighth.
"We're playing our best baseball right now," shortstop Elvis Andrus said. "We're playing with a lot of heart and playing together. It has been great to watch."
The Angels entered the series having won 23 of their last 32 games and had a chance to finish the season with a winning record. But that didn't help against a team trying to reach postseason for a fourth straight year.
"They had something to play for," outfielder Josh Hamilton said. "Obviously we wanted to try to help them stumble, but weren't able to do that. But then again, the games we played, we played good games against them. So, that's all we wanted to do."
The Angels took a 1-0 lead against Yu Darvish on Mike Trout's first-inning home run. Trout laid into a 1-0 fastball for his fourth career home run against Darvish, the most by any opponent.
Vargas took a one-hit shutout into the fifth but gave up a leadoff double to A.J. Pierzynski and then walked Soto. With Mitch Moreland at the plate, Vargas threw a wild pickoff throw, moving the runners to second and third. Moreland struck out, but Gentry, with the infield in, smacked a single up the middle to bring home both runners and give the Rangers a 2-1 lead.
Darvish couldn't hold the lead. He gave up a two-out single to Erick Aybar and then walked Trout in the sixth so manager Ron Washington went to the bullpen for left-hander Neal Cotts to face Hamilton. Darvish was not happy being pulled from the game after just 84 pitches.
"I really didn't have to challenge Trout because I have really good numbers against Hamilton," Darvish said. "So I wanted to face Hamilton. But frankly I was kind of surprised I was taken out in the situation."
Hamilton had been 1-for-6 off Cotts, but he lined a single to left to drive home the tying run. With runners at the corners, Cotts then struck out Howie Kendrick to end the inning.
After the Rangers took the lead, their bullpen once again shut it down with scoreless innings from Robbie Ross, Tanner Scheppers and Joe Nathan. Rangers relievers pitched 20 1/3 innings over the past seven games and allowed just one run on 10 hits while striking out 27.
"The games we're playing right now are what they're all about, especially this last series playing against the Angels," Nathan said. "They came in as the hot team and everyone knew it, so I'm sure a lot of the fans and staff were a little worried about this series. This series had that feel, playoff atmosphere and must-win games that are a very similar feel."
Nathan pitched the ninth even though the Rangers had a four-run lead and it was not a save situation. But Washington did not hesitate using him for the fourth straight game.
"I'm not playing around there," Washington said. "I'm getting three outs. That's why I brought Nathan in."
T.R. Sullivan is a reporter for MLB.com. Read his blog, Postcards from Elysian Fields, and follow him on Twitter @Sullivan_Ranger. This story was not subject to the approval of Major League Baseball or its clubs.