Helton closes 17-year career on his terms
Helton closes 17-year career on his terms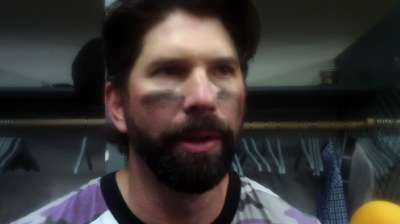 LOS ANGELES -- The swing was hard and loud, accompanied by a football-style grunt.
And, yes, it was empty. But that wasn't the point. With 2,519 hits, 592 doubles to rank 16th all-time, 998 extra-base hits and 369 home runs, Todd Helton will not be remembered for the strikeout against the Dodgers' Kenley Jansen in the final at-bat of a 17-season career.
But the final swing at Jansen's 94-mph cut fastball on a 1-2 count, in the ninth inning of a 2-1 Rockies victory, was him giving the game every bit of heart, energy and optimism one final time.
Helton is 40 and he's ready to walk away, especially because he wanted to be a regular player or nothing at all. Could he have repurposed himself as a pinch-hitter and squeezed out more season, the way former teammate Jason Giambi did in Colorado and will be doing in the postseason in Cleveland? Of course. But spending time with his wife and two daughters -- while also traveling, hunting and ranching -- trumps that, as far as he is concerned.
"It's better to be out there hacking and striking out than sitting on the bench," Helton said. "I'd rather go down swinging, if that's the way I'm going to go down. So it doesn't bother me at all that I struck out in my last at-bat.
"Jansen's a good pitcher. I had one thing on my mind, and that was trying to go deep. But I'm fine with it."
Shortstop Troy Tulowitzki hit cleanup, which gave him an on-deck circle view of Helton's final day, a 1-for-4 performance with a walk. His hit was a single off Dodgers starter Hyun-Jin Ryu, which set up Tulowitzki's RBI single. Tulowitzki admitted savoring all of Helton's at-bats.
"I tried to enjoy it as much as I could, standing on deck, getting to watch him in his last couple of at-bats, being out there on the field with him," Tulowitzki said. "But I just enjoyed his company this last week or so, especially for this last game. He wanted to get a hit, but at the same time he went down swinging.
"Not too many guys get to go out on their own terms. It's a very low percentage. What a teammate. What a career. What a way to end."
Helton finished his 2013 season with a .249 batting average, 22 doubles, 15 home runs and 61 RBIs in 124 games. He underwent labrum surgery on his right hip last winter and had a knee cleanup procedure as well, and he realized his goals of making it through the season and staying in the Rockies' lineup.
Helton was honored and applauded throughout his final homestand at Coors Field, and he responded by going 13-for-38 (.342) with two home runs -- one in his final home game Wednesday against the Red Sox's Jake Peavy -- and nine RBIs. At Dodger Stadium over the weekend, he was 1-for-11. But the Rockies won two of three from the National League West champions.
"Wednesday night I was probably a little emotionally spent after that night, and then having to get up for three more games because that actually felt like the finale," Helton said. "So this was tough, but at least I was able to sneak out a hit, and we got a couple of wins.
"It happens pretty quick. I mean, you always wish you could slow down and enjoy it a little bit more. But in the long run, it's part of it. You're out there battling, and that makes it go pretty quick. It's been a great run, and I've accomplished more in this game than I ever thought. I've learned more than I ever thought, by just going out and playing the game. It's been a lot of fun."
Thomas Harding is a reporter for MLB.com. Read his blog, Hardball in the Rockies, and follow him on Twitter @harding_at_mlb. This story was not subject to the approval of Major League Baseball or its clubs.