Trout doesn't expect to wind up AL MVP
Trout doesn't expect to wind up AL MVP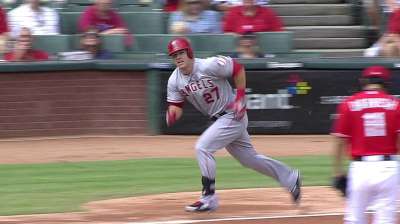 ARLINGTON -- Mike Trout isn't very confident he'll win the American League Most Valuable Player Award.
"I think it's going to be another thing like last year," he said. "I can't take it away from [Miguel] Cabrera. He won the division, is going to the playoffs and we're heading home after the game. That's a big contribution, being on a winning team."
Trout homered off Yu Darvish in the first inning of Sunday's regular-season finale, his towering solo shot to straightaway center field giving him 27 on the year and going for hit No. 190. The 22-year-old outfielder entered Sunday ranked second in the AL in batting average (.324) and on-base percentage (.432), fourth in slugging (.559), first in walks (109) and runs (109), while adding 33 steals, 97 RBIs and leading the Majors in Wins Above Replacement, as calculated by FanGraphs.com (10.2).
But Cabrera leads the Majors in all three triple-slash-line categories, at .348/.442/.636, and has better power numbers, with 44 homers and 137 RBIs. Besides, as Trout mentioned, Cabrera's Tigers are AL Central champs and the Angels aren't sniffing the playoffs.
It's really the same scenario that played out last year (minus Chris Davis' Major League-leading 53 home runs).
"It's almost the same exact thing, though last year we were in it longer," said Trout, a unanimous selection for the AL Rookie of the Year Award and a runner-up for the MVP in 2012. "It's frustrating. But you have to look at the positives. We had a bunch of young guys come and fill some spots."
After Sunday's game, Trout will fly to his parents' home in Millville, N.J., where he'll once again spend his offseason, and he will look into purchasing a house somewhere in South New Jersey to call his own. In a couple weeks, he'll start working out again. Shortly after Christmas, he'll swing a bat. And through it all, he'll hunt, fish, play golf, watch his Philadelphia Eagles and mostly stay away from postseason baseball, unless there's a Game 7 or Torii Hunter is playing.
One thing he won't spend too much time on, he says, is thinking about when the Angels will give him a contract extension.
"The time will come," said Trout, who isn't even arbitration-eligible until after the 2014 season. "I'm not thinking about it. I'm just going in the offseason and get ready for Spring Training."
Alden Gonzalez is a reporter for MLB.com. Read his blog, Gonzo and "The Show", and follow him on Twitter @Alden_Gonzalez. This story was not subject to the approval of Major League Baseball or its clubs.