Samardzija, Cubs drop season finale to Cards
Samardzija, Cubs drop season finale to Cards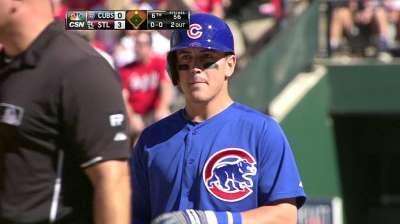 ST. LOUIS -- Jeff Samardzija was at Wrigley Field on the day Dale Sveum was named Cubs manager, he was the Opening Day starter this year, and on Sunday he wrapped up the season.
Samardzija took the loss in the season finale, as the Cubs dropped a 4-0 decision to the playoff-bound Cardinals in front of a sellout crowd of 44,808 at Busch Stadium.
Whether it was Sveum's last game as manager won't be known until Monday, when he meets with Theo Epstein, president of baseball operations, in Chicago. Sveum has one year remaining on his contract, but Epstein said he is evaluating everyone on the coaching staff.
"We'll find out in whatever it is, 12 hours, 15, whatever it is," Sveum said. "It's upon us."
There were a lot of hugs between the players and coaches in the visitor's clubhouse after the game. With the loss, the Cubs finished last in the National League Central at 66-96, a slight improvement over the 61-101 record in 2012. Epstein has repeatedly said he's not judging Sveum on the team's won-loss record.
"There were some positives," Sveum said of the season, citing Anthony Rizzo's stats, the emergence of reliever Hector Rondon, the development of catcher Welington Castillo. "It was a tough year all the way around."
"I think [Sveum is] a great guy, a great coach," Samardzija said. "You have to look at it as a whole. As a player, you want consistency. You want to build those relationships and [know] that you can lean on [people] in certain times.
"All we can say is, 'Who knows [about Sveum]?' It's not our call," Samardzija said. "They haven't contacted us or anything. It's whatever [the front office] wants to do and feels what's best for the organization. I know I want to win and the guys in here want to win, and ... the bottom line is winning ballgames."
Samardzija and Sveum first met on Nov. 18, 2011, the day Sveum was hired. The pitcher was at Wrigley to talk to Epstein about starting full-time, and continued the conversation with the new manager. Sveum and Samardzija got to know each other during that offseason in Arizona. They were together at the Cubs' complex in Mesa, Ariz., they played golf, they talked football.
"[Samardzija is] one of those guys who will talk to anybody, and not a guy who's afraid to come into my office and talk at any time," Sveum said. "He's that guy who we've counted on to be that No. 1-type guy. He's still molding himself into that, but all the issues and stuff that he's gone through trying to get to that spot -- issues meaning learning how to get through lineups when he doesn't have his split, using his two-seamer, his cutter -- it's a big step. He's that guy you count on because he works so hard and he cares so much."
In 2012, Samardzija's first year as a starter, he was shut down in early September when he'd reached his innings limit. This year, the kid gloves were off. Samardzija struck out four over six innings to finish with 213 2/3 innings, 214 strikeouts, and 19 quality starts in 33 outings. But the Cubs couldn't get him a win, and ended the season losing 14 of their last 18 games.
"I'm satisfied," Samardzija said of his season. "I had a strong year, felt good, pitched every start, threw a lot of innings, [and had a] lot of strikeouts. I need to limit the damage in crooked-number innings. ... Once we do that -- and cut those down to one instead of three, and cut the walks down, too -- I think you're looking at a different year. I'm still hungry and eager to improve, for sure."
He will finish among the top 10 pitchers in the National League in innings and strikeouts.
"You want to be that guy who everyone looks to and not only doesn't want to face on the opposing side but also is someone you want to watch pitch," Samardzija said.
The Cardinals, who won the NL Central with a win in Friday's series opener, spent most of Sunday's game saluting their players. Yadier Molina warmed up Jake Westbrook, but was lifted before the right-hander threw the official first pitch. Westbook went one inning and was replaced by Joe Kelly, who helped himself with a one-out double in the third. He scored one out later on Jon Jay's single.
St. Louis added to its lead with two outs in the fourth on an RBI double by Daniel Descalso and an RBI single by Shane Robinson off Samardzija.
With the win, the Cardinals will host the winner of the Reds vs. Pirates Wild Card Game, and the Braves will play host to the Dodgers in the NL Division Series. The Cubs' players headed home.
"It's not about playing six months, it's about playing that seventh month," Samardzija said. "Otherwise, you're just out here [biding] time. I want to win and pitch in October, and that's it."
Maybe next year?
"I think in three years -- two or three -- I think we'll be competing," shortstop Starlin Castro said. "I feel me and this guy right there [Rizzo], we work together and we'll be a good team for sure."
Carrie Muskat is a reporter for MLB.com. She writes a blog, Muskat Ramblings, and you can follow her on Twitter@CarrieMuskat. This story was not subject to the approval of Major League Baseball or its clubs.