Cards blank Cubs to wrap up NL's top seed
Cards blank Cubs to wrap up NL's top seed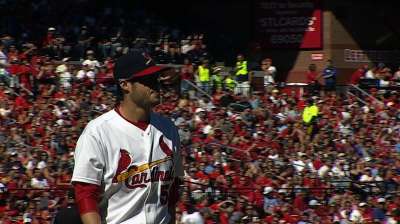 ST. LOUIS -- On a day when manager Mike Matheny scripted send-offs and recognized personal accomplishments, the Cardinals nevertheless achieved a team objective that could pay dividends in October.
With a 4-0 win over the Cubs in Sunday's regular-season finale, the Cardinals closed their season at 97-65. No team in the Majors had a better record, which sets the Cardinals up with home-field advantage through the National League Championship Series. The Cardinals will draw the winner of Tuesday's Wild Card Game between the Pirates and Reds in the NL Division Series beginning Thursday.
"It's going to be a tough series for whoever wins that game," said Joe Kelly, Sunday's winning pitcher. "We know what they've got, and they know what we've got. It's going to come down to who performs better."
The Cardinals finished the season on a six-game winning streak, having swept home series against the Nationals and Cubs in this final week. Sunday's victory, which came in front of a sellout crowd of 44,808, was the team's 53rd at home this season. That's a Busch Stadium III single-season record, as well as an indicator of how valuable home-field advantage could be in the playoffs.
St. Louis won 20 of its final 23 home games, dating back to Aug. 11. The team finished the season on a 17-5 run.
"We came home after the road trip [earlier this month] and played great baseball [in September]," Matt Adams said. "All facets on the game are clicking right now for us. We're just ready to get the postseason underway."
Once the Cardinals had the division title wrapped up on Friday, Matheny was clear that this weekend would be partially about rest and recognition. He sat David Freese for both games and left Matt Holliday on the bench with his .300 average. Yadier Molina went behind the plate to start Sunday's game, only to be pulled before first pitch. He tipped his hat as he walked off to a standing ovation -- the first of three on the afternoon.
Fans acknowledged Carlos Beltran when he was pulled in the fifth. After dealing 5 1/3 scoreless innings, Joe Kelly got his moment, too, as Matheny made a mid-inning pitching change.
"There was a whole lot today that could have gone wrong," Matheny said. "We never want to put it out there that we're not going about it the best that we can, but we stuck to our plan and our plan to try and get everybody ready and right. ... You know, I think it goes back to a pretty consistent saying -- the right thing isn't always the easy thing. Today, we were real proud to be able to do some things to honor some guys."
Even the Cardinals' desire to send Jake Westbrook off with one last outing -- albeit a brief one -- worked out well. Westbrook worked around a two-out double to pitch a scoreless first inning. That would be his only inning on Sunday, and likely the last of his 3 1/2-year Cardinals career.
Aware that he'll likely be left off the postseason roster and his 2014 option won't be exercised, Westbrook pocketed the ball from his final out. If this was indeed it for Westbrook, his ERA as a Cardinal closes at 4.32.
"It was pretty emotional, just for the fact that I don't really know where my future is, as far as baseball goes," Westbrook said. "It was good to be a part of [the final game], and I'm glad I was able to put up a zero."
Westbrook, who turned 36 on Sunday, said that while he would like to continue playing, family considerations and offseason offers will play a role in his eventual decision. He would welcome a return to St. Louis under a reworked contract, but also realizes that "with all these young guys that we have, it's kind of tough" to expect mutual interest.
Kelly relieved Westbrook in the second and shined in his final outing. He scattered three hits -- all doubles -- while lowering his ERA to 2.69.
"That was one of his best outings," Matheny said. "Just all-around stuff -- you look at the break on his breaking ball, the life on his fastball. I was real impressed."
The Cardinals have not announced whether Kelly will be a part of the postseason rotation, but without him the team would never have closed with baseball's best record. Kelly was the stopper in a rotation that scuffled throughout July and August. In September, he allowed only eight runs in six starts.
Though Kelly did not pick up his first win until July 12, he finished with 10. Four Cardinals pitchers finished with double-digit wins.
Despite finishing the game with only three everyday players -- Matt Carpenter, Jon Jay and Adams -- in the lineup, the Cardinals received a lift from their supporting cast.
A team that finishes the year hitting .330 with runners in scoring position -- the best such mark in the Majors in at least 40 years -- scored all four of its runs on such hits on Sunday. All came with two outs.
Kelly doubled and scored on Jay's third-inning single. Two more scored in the fourth on an RBI double by Daniel Descalso and an RBI single by Shane Robinson. Tony Cruz's eighth-inning double padded the lead.
"That's been our trademark all season," said Carpenter, whose 0-for-4 day left him one hit short in his pursuit of 200. "It's been something that we did an amazing job all year with. Hopefully, we'll keep that going this postseason."
The Cubs, who watched three NL teams clinch playoff spots over the past week, finished 7-12 against St. Louis.
"How do you count these guys out?" Cubs losing starter Jeff Samardzija said. "Look at the last inning -- you've got [second baseman Kolten] Wong laying out for a two-out ball in a four-run game. What else do you need to say about a team? They play the right way and do everything right. They have to be your pick coming in."
Jenifer Langosch is a reporter for MLB.com. Read her blog, By Gosh, It's Langosch, and follow her on Twitter @LangoschMLB. This story was not subject to the approval of Major League Baseball or its clubs.