Scioscia hasn't heard if he'll be back in '14
Scioscia hasn't heard if he'll be back in '14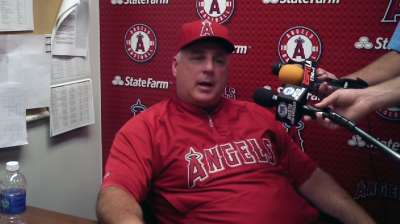 ARLINGTON -- The sentiment around the organization is that Mike Scioscia's job is safe for 2014. But on the morning of the regular season's final game on Sunday, the Angels' manager, who's finishing his 14th year at the helm, said he hasn't been given any assurances.
"I haven't heard one way or the other, really," Scioscia said. "I'm sure that at some point they're going to let us know."
Scioscia, under contract through 2018, said his up-in-the-air job status is "not an issue at all." General manager Jerry Dipoto, signed through only 2014, said recently he's "not going to get into it" when asked where he stands for next year. The two were slated to be on the charter flight back to Southern California on Sunday night, along with the entire front office and coaching staff.
What happens when they land remains to be seen.
"It's not an issue," Scioscia said again. "It really isn't. It's going to be addressed at some point. I'm sure it's going to be addressed before February."
Dipoto and Scioscia are nonetheless moving forward with what needs to be corrected as the Angels finish out a fourth consecutive season without a playoff appearance. The coaching staff has already completed its evaluations of the on-field roster and the front office is slated to have organizational meetings on Oct. 10.
The 2013 season marked only the fourth losing season since Scioscia took over in 2000. Heading into the final day, the Angels ranked fourth in the Majors in OPS (.744), seventh in runs (731), tied for 22nd in starting-pitcher ERA (4.30), tied for 24th in relief-pitcher WHIP (1.35) and 27th in Defensive Runs Saved (minus-62).
Scioscia's main focus, if indeed he is back, is to find a way to get the Angels off to better starts, after going 9-17 this past April and dropping 14 of the first 20 in 2012.
As for how he'd evaluate the job he did this season?
"We're all accountable for some things that haven't worked out, and I certainly am," Scioscia said. "I think there are some things that, through the rearview mirror, you can look at it and say that wasn't the direction we needed to go. But I think our staff did a great job of evaluating these guys, which is the most important thing that we do, trying to get some continuity in what was a very, at times, thin bullpen, and our rotation, which took a while to get together. You can see why we put so much time into trying to get it going early because of the impact it has on a team. And we worked really hard on that."
Alden Gonzalez is a reporter for MLB.com. Read his blog, Gonzo and "The Show", and follow him on Twitter @Alden_Gonzalez. This story was not subject to the approval of Major League Baseball or its clubs.