Atlanta ends season with rout, finishes second in NL
Atlanta ends season with rout, finishes second in NL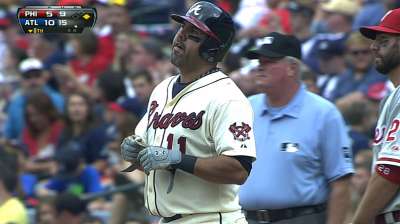 ATLANTA -- It was not the perfect conclusion the Braves were seeking. But before bidding adieu to this memorable 162-game regular season, they took advantage of one last opportunity to feast on Philadelphia's pitchers and create some momentum that their offense can carry into the postseason.
Gerald Laird matched a career-best four hits and Elliot Johnson drove in a career-high five runs while fueling the 17-hit attack the Braves used to conclude the regular season with Sunday afternoon's 12-5 win against the Phillies.
"You always want to try to get that momentum going into the postseason," Laird said. "It was a good offensive day. Our offense has been kind of struggling the last couple of weeks. It was nice to come out and get some at-bats, and have the guys get in rhythm."
With this offensive eruption, the Braves matched a franchise record with their 56th home win. But even with the victory, Atlanta fell short of realizing its goal to gain home-field advantage during the National League playoffs.
The Braves entered Sunday knowing to gain the NL's top seed, they needed both a win and a Cardinals loss. But by the time they were shaking hands at the end of this game, they were well aware of the fact that St. Louis already gained this luxury with a win against the Cubs.
The Braves will now face the Dodgers in the NL Division Series. The opener of this best-of-five series will be played Thursday at Turner Field.
"We were scoreboard watching," Braves manager Fredi Gonzalez said. "Our guys stepped up, got on the board early, and then were able to add on. I'm proud of a good season -- 30 games over .500, 96 wins, it's a [heck] of an accomplishment for our ballclub. The fun begins now."
Getting some work in before the playoffs begin, Craig Kimbrel worked a scoreless ninth inning to whittle his ERA down to 1.21. This ranks as the Majors' second-best mark in a 50-save season. Eric Gagne posted a 1.20 ERA while converting 55 saves in 2003.
It did not take the Braves long to erase some of the frustration created by Saturday night's costly one-run loss. Each of the first five batters they sent to the plate against Phils starter Zach Miner reached safely with a hit or a walk. This sudden eruption was highlighted by the two-run moonshot Evan Gattis snuck over the top of the left-center-field wall.
Gattis' 21st home run landed right around the same area as the one he hit off Philadelphia's Roy Halladay in his first career at-bat back on April 3. The two-run shot marked the start of his three-hit performance, which was matched by shortstop Andrelton Simmons.
"I'm happy with my year," Gattis said. "I feel like I've got a whole bunch I can do better."
Laird notched one of the two singles that preceded the one-out double Simmons recorded in the two-run third inning to give Julio Teheran a 5-0 lead. Simmons' 50 extra-base hits were the fifth most recorded by a shortstop in Atlanta Braves history, which dates back to 1966.
The comfortable early lead seemed to be more than enough for Teheran, as he allowed just two hits through the first three innings. But the Phillies made things interesting when they notched three straight one-out singles during a four-run fourth inning that was highlighted by Erik Kratz's three-run home run, which narrowly missed Gattis' glove before sneaking over the left-field wall.
Teheran allowed just the four runs and six hits during this 66-pitch, five-inning outing that served as his final tuneup before his first career postseason start. The 22-year-old rookie, who posted a 2.97 ERA after the All-Star break, will likely start Game 3 of the NLDS.
"It was one of those things where you wanted him to come out and get some work, and have him use all of his pitches," Laird said. "He's going to be pitching big games for us the next couple of days."
After the Phillies pulled within one run, the Braves regained a comfortable lead by combining for five runs in the fifth and sixth innings, then scoring two more in the eighth. Jose Constanza came off the bench to deliver a two-out, two-run single in the fifth, and Johnson drove in a pair of runs in the sixth inning with a triple.
Johnson capped his memorable season finale with a two-run single in the eighth. The veteran infielder has made his mark since being claimed off waivers from the Royals on Aug. 21. All indications are that when the playoffs begin, he will continue seeing a majority of the time at second base in place of Dan Uggla.
"You have to be happy where you're at," Johnson said. "You have to be grateful for the opportunity. Fredi's been giving me a lot of opportunities to play, and I'm just trying to make the most of every opportunity that's given to me."
Mark Bowman is a reporter for MLB.com. This story was not subject to the approval of Major League Baseball or its clubs.