Ethier might be limited to pinch-hitting in NLDS
Ethier might be limited to pinch-hitting in NLDS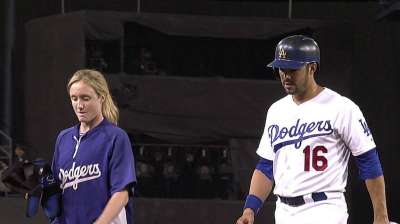 LOS ANGELES -- The Dodgers have a difficult decision to make with outfielder Andre Ethier and his troublesome left ankle in regards to the National League Division Series roster.
Dodgers manager Don Mattingly said Sunday the club is considering carrying Ethier on the NLDS roster exclusively as a pinch-hitter.
"It depends what we're willing to do," Mattingly said. "Are we willing to have Andre as a pinch-hitter? Is that going to be enough for us? It depends what we're willing to live with and how we're able to use him."
Ethier has not played the field since Sept. 13 and is dealing with an ankle issue similar to shin splints. He's been rehabbing at the Dodgers' Spring Training facility at Camelback Ranch-Glendale since Friday, and he will return to Los Angeles on Monday night and work out with the team on Tuesday at Dodger Stadium.
Ethier has not been cleared to run the bases, and Mattingly said he's not sure if the outfielder will be able to do so on Tuesday.
"We'll just see what he can do, and then we'll decide if that's going to be enough to be able to keep him on it [NLDS roster] or not," Mattingly said.
Skip Schumaker would be the starting center fielder in the NLDS if Ethier is unavailable.
Austin Laymance is an associate reporter for MLB.com. Ken Gurnick is a reporter for MLB.com. This story was not subject to the approval of Major League Baseball or its clubs.