Rangers activate Cruz, batting sixth tonight
Rangers activate Cruz, batting sixth tonight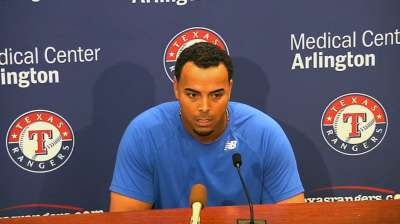 ARLINGTON -- Rangers outfielder Nelson Cruz has served his 50-game suspension and has been activated for Monday night's tiebreaker game against the Rays at the Ballpark in Arlington. Cruz is in the No. 6 spot in tonight's lineup as the designated hitter.
Cruz accepted a 50-game suspension by Major League Baseball in August for violation of the Basic Agreement and its Joint Drug Prevention and Treatment program.
Cruz is expected to be back in the lineup against left-hander David Price in a game that will decide who advances as the second Wild Card team and plays the Indians in the Wild Card Game on Wednesday in Cleveland. Monday's game will be broadcast on TBS.
The Rangers made the announcement after their 6-2 victory over the Angels on Sunday afternoon.
"It feels special to be back," Cruz said. "It shows they believe in me. I have been working every day to make sure I am ready. I want to play. I want to be a part of this team and help them win championships."
Cruz has not played in a regular-season game since Aug. 4. He was hitting .269 with 27 home runs, 76 RBIs and a .511 slugging percentage at the time he was suspended.
He has been working out in instructional league and played in eight games, going 9-for-27 with four doubles, one home run and nine RBIs. Cruz said he has been seeing some hard throwers in Arizona, although not with the same breaking stuff as he sees in the Major Leagues.
The Rangers had been planning to activate Cruz once his suspension was over. But they wanted to wait until the regular season was over before making an official decision.
"If we didn't win this week, it would have been a moot point," general manager Jon Daniels said. "There was no sense talking about it. We wanted to stay in the moment."
Daniels also wanted to make sure no new information came up regarding Cruz's situation and they wanted to make sure he handled himself appropriately during the suspension, especially around the Rangers' young players in instructional league.
"We were satisfied," Daniels said. "He handled it well."
Daniels also wanted to make sure Cruz's teammates would welcome him back, but that was never an issue.
"That's not my decision, but I would love to have him back," third baseman Adrian Beltre said.
"We have been saying all along that we would want him back," outfielder David Murphy said. "He has a track record here and he has been a great teammate. He made a mistake. We didn't agree with what he did, but everybody makes mistakes. We had a meeting and forgave him. In my mind it's easy to welcome him back at the most important time of the year."
The Rangers were 29-21 during Cruz's absence. They hit .267 with a .417 slugging percentage while averaging 4.4 runs per game before the suspension. They hit .266 with a .403 slugging percentage as a team while scoring 5.0 runs per game while Cruz was out.
But the Rangers should be stronger with Cruz and Alex Rios in the same lineup. The Rangers acquired Rios four days after Cruz was suspended and he is hitting .280 with six home runs and 25 RBIs in 46 games with the Rangers.
"It would be great to have that extra bat, a power hitter," shortstop Elvis Andrus said. "Especially with what he has done in postseason ... for sure he is someone we'd love to have back."
Cruz is a career .278 hitter in the postseason, with 14 home runs and 27 RBIs in 34 games. His .683 slugging percentage is fourth all-time for any player with at least 100 at-bats in the postseason.
The tiebreaker game on Monday will be played with expanded September rosters. The Rangers will revert back to a 25-man roster if they advance to the postseason. The Rangers expect Cruz to be on the playoff roster but are not committing to that yet.
"It has been tough," Cruz said. "The guys have done an amazing job. As a player you want to contribute and be there. It was tough not being there and not being in the clubhouse. But now I have a chance to be there and do what I love to do, and that's play baseball. We have been playing really good baseball and I'm excited to be a part of it."
T.R. Sullivan is a reporter for MLB.com. Read his blog, Postcards from Elysian Fields, and follow him on Twitter @Sullivan_Ranger. Master Tesfatsion is an associate reporter for MLB.com. This story was not subject to the approval of Major League Baseball or its clubs.