Diamond, Twins drop season finale to Indians
Diamond, Twins drop season finale to Indians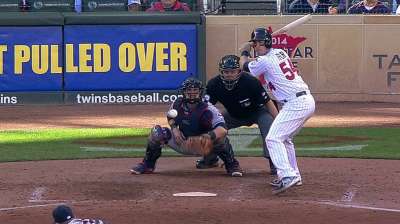 MINNEAPOLIS -- After finishing with a 63-99 record in 2011 and a 66-96 record in '12, the Twins hoped to have a bounce-back campaign in '13.
Instead, the Twins finished the season with the exact same record as the year before after free falling in September by going 8-20 without Justin Morneau, who was traded to the Pirates on Aug. 31, and Joe Mauer, who sustained a season-ending concussion on Aug. 19.
That free fall came to a fitting end in the last game of the season on Sunday, as the Twins struggled both offensively and defensively in a 5-1 loss to the Indians in front of 30,935 fans at Target Field.
It left the Indians celebrating, as they clinched a spot in the American League Wild Card Game on Wednesday, which will be held at Progressive Field against either the Rays or Rangers.
But there was no such celebrating in the Twins' clubhouse after the game, as Twins manager Ron Gardenhire was left trying to sum up another disappointing season. And it had a different feel than the last two seasons, given the uncertainty of Gardenhire's future with the club with his contract expiring after the season.
"We all know it was a tough year -- not a good one at all," said Gardenhire, whose fate is expected to be announced Monday. "A few good things happened with some individuals stepping up and performing, but it was not a good year. And you don't have to say a lot in that clubhouse. They know that."
The players had Gardenhire's back postgame, as they didn't blame their skipper for the club's struggles this season. The players took the blame head on, as Twins starting pitchers posted a Major League-worst 5.26 ERA and Minnesota hitters combined to hit just .225 with runners in scoring position, which was the second-worst mark in the Majors.
"He's the reason why we've won here," Mauer said. "He's a great manager. It's not his fault. Hopefully, they realize that and we can bring him back, because he's a great manager and I love playing for him."
"I wouldn't want to play for anybody else," second baseman Brian Dozier said. "It was all on us to be honest. We didn't do our job this year. It's not about what he did."
Left-hander Scott Diamond was pegged with the loss, giving up four runs (two earned) on seven hits with three strikeouts over six innings. He finishes the year with a 6-13 record and a 5.43 ERA after going 12-9 with a 3.54 ERA in '12.
Cleveland scored in a hurry, as Michael Bourn led off the game with a single before Nick Swisher launched a two-run blast to left field on just the eighth pitch of the game.
Diamond settled down until running into trouble again in the sixth but didn't get help from his defense, as the Twins made three errors in the inning. It started when Carlos Santana reached on a throwing error by shortstop Pedro Florimon before Ryan Raburn followed with a single.
Asdrubal Cabrera laid down a sacrifice bunt, but Diamond's throw to first went into right field to allow Santana to score and Raburn to reach third. Raburn then scored on a sacrifice fly from Yan Gomes. Trevor Plouffe then made an error on a grounder from Mike Aviles, but Diamond was able to get out of the jam by getting Bourn to fly out to left field.
"We just had one terrible inning," Gardenhire said. "We threw the ball away at first and then Scotty threw one away and then we missed another. It was unfortunate stuff there. But I liked what I saw from Scotty. Maybe he can build on that for next year."
The Indians added another run in the seventh on an RBI double from Santana off right-handed reliever Michael Tonkin.
It was plenty of offense for Indians right-hander Ubaldo Jimenez, who dominated the Twins for 6 2/3 innings. He gave up one run on five hits and a walk while tying a career high with 13 strikeouts.
"It felt really good, especially knowing that it was a really important game that I had to throw everything I had," Jimenez said. "We really wanted to play at home. We wanted to get the home-field advantage. So I brought everything. I brought everything that I had and kept throwing strikes."
Alex Presley led off the first with a single for the Twins, but Jimenez went on to retire 17 batters in a row. Minnesota didn't score until the seventh, when Eric Fryer laced an RBI single with two outs after back-to-back singles from Chris Herrmann and Clete Thomas.
But it wasn't enough for the Twins, who struck out 16 times, went 1-for-6 with runners in scoring position and finished the season on a six-game losing streak.
They also lost 20 of their final 24 games to leave Gardenhire, who doesn't have a contract for next season, stuck at 998 career wins. He'll easily reach that milestone if he's retained by the Twins.
Based on the sentiment of the players, they want Gardenhire back for a 13th year at the helm of the Twins.
"I know the guys in this clubhouse hold him in the highest esteem," Diamond said. "He's a great manager. We love him. Whatever happens, we're happy to have him, and if not, we wish him all the best."
Rhett Bollinger is a reporter for MLB.com. Read his blog, Bollinger Beat, and follow him on Twitter @RhettBollinger. This story was not subject to the approval of Major League Baseball or its clubs.