Castro happy with how he finished season
Castro happy with how he finished season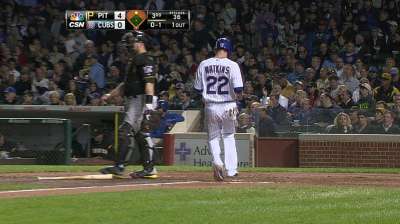 ST. LOUIS -- It was a disappointing season for Cubs shortstop Starlin Castro, who heads home to the Dominican Republic on Tuesday, happy with the way the year finished.
"I tried to finish strong," Castro said on Sunday. "I know it's a bad year. But what I'm looking for is how I'm feeling right now -- I feel like my old [self], I feel pretty good at the plate, and that's how I'm trying to finish so I come back next year with the same intensity."
The shortstop began this season with a career. 297 average in the big leagues, but headed into Sunday's game batting .246. This month, he's batting .269, and was hitting .270 in 39 games in the leadoff spot. Castro will work with strength and conditioning coach Tim Buss in the offseason in the Dominican.
"I think next year, I'll have a strong mind," Castro said. "It's bad because it's a bad year, but I think it's good because I learned a lot. I never had a bad year, and I think this has been important for me to [make] my mind strong and grow more."
Cubs manager Dale Sveum said both Castro and first baseman Anthony Rizzo learned about themselves and how to deal with slumps and adversity this season. There have been highs and also lows, such as the Aug. 17 game when Sveum benched Castro after the shortstop's mental gaffe led to a run scoring in a loss to the Cardinals.
Does Castro want Sveum back as manager?
"Yeah, why not?" Castro said. "But it's not my decision. I think he's OK."
The Cubs did try to change Castro's hitting style, but his struggles at the plate resulted in letting the shortstop "be me," as he said. He described his relationship with Sveum as "good, nothing bad."
"I want to be me," Castro said. "I know I make errors, I know I make mistakes, and I paid for this. But I want to be like me. I don't need pressure on myself, just play baseball. That's what I need. Let me play baseball, and I'll be all right."
Carrie Muskat is a reporter for MLB.com. She writes a blog, Muskat Ramblings, and you can follow her on Twitter@CarrieMuskat. This story was not subject to the approval of Major League Baseball or its clubs.