Moustakas to work on swing in Venezuelan League
Moustakas to work on swing in Venezuelan League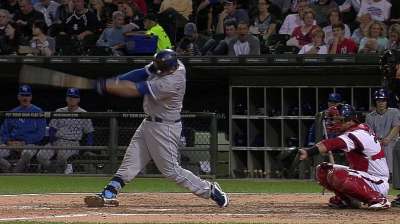 CHICAGO -- Royals third baseman Mike Moustakas will carry his quest for hitting improvement to the Venezuelan Winter League.
Moustakas plans to play part of the winter season for the Cardenales de Lara, managed by Royals hitting coach Pedro Grifol. A teammate will be shortstop Alcides Escobar.
"I'm pretty excited about it. I'm going to go down there with Pedro for a few weeks and just keep working," Moustakas said. "It's going to be a little different style of baseball and it's going to be fun."
Moustakas said he'd play for an undetermined period, perhaps three to five weeks, starting at the end of November.
With a .233 average this season, Moustakas had 13 home runs and 43 RBIs entering Sunday. That's down from his .242/20/73 numbers last year.
"I think what happened is that he's a kid that always has high expectations. He set some real lofty goals and, in the beginning when he started out slow, he started pressing and made things worse," manager Ned Yost said. "He got to where he relaxed and started to climb forward. These young guys have got to learn how not to press in certain situations and this has been such a big year for us and they've learned."
Dick Kaegel is a reporter for MLB.com. This story was not subject to the approval of Major League Baseball or its clubs.