Johnson sits out finale due to shoulder, not exchange
Johnson sits out finale due to shoulder, not exchange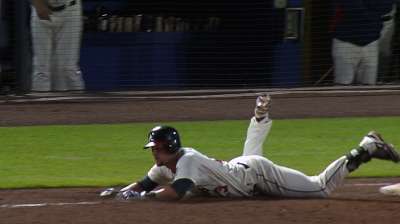 ATLANTA -- Braves third baseman Chris Johnson's exclusion from the starting lineup for Sunday's regular season finale against the Phillies was not a product of the heated exchange he had with first-base coach Terry Pendleton after Saturday night's 5-4 loss.
After arriving at Turner Field on Sunday morning, Johnson addressed the issue with Pendleton, then went to the trainer's room to receive treatment on his right shoulder, which has bothered him since he dove for a ball Thursday night. All indications are that Johnson just needs a couple days to rest the ailment before returning to the lineup for Game 1 of the National League Division Series on Thursday.
"He's been playing through it and we just decided not to risk it anymore," Braves manager Fredi Gonzalez said. "I want to say emphatically [the shoulder] is the reason he's not in the lineup today."
Johnson's shoulder discomfort played a part in the throwing error he made in the fifth inning. But that miscue did not prove costly, and the hot topic following Saturday's game came courtesy of the postgame confrontation Pendleton and Johnson had in the dugout moments after Johnson grounded out to end the game with the tying run on second base.
Victimized by Philadelphia shortstop Jimmy Rollins' game-ending defensive gem, Johnson returned to the dugout and rather calmly spun his batting helmet toward the bat rack. What appeared to be a rather innocent action drew a heated response when the helmet hit Pendleton, who had previously addressed the issue of Johnson throwing items in the dugout.
"It's something we've talked about all year long, and tried to get together and work on all year long," Johnson said. "It's a learning process for me. TP is old school. It's one of those things when it happens, he's going to confront you as soon as it happens. It's all good. It's good for me to learn from that and make sure it doesn't happen again. The last thing I want is to take out some anger on something and then have it hurt somebody on the team."
After getting hit by the helmet, an incensed Pendleton grabbed Johnson by the jersey and offered a few heated words before both individuals pushed themselves away from each other. Johnson grabbed some items off the bench before Pendleton once again attempted to grab him. They were quickly separated, and the events did not spill over into the clubhouse.
"I'm a nutjob sometimes," Johnson said. "My helmet slipped out of my hand and it hit someone. That's not good. I'm in the wrong right there. I came in today, talked to TP, apologized and we'll move on."
Gonzalez was confident the issue is dead. Pendleton addressed this issue with Johnson as recently as a week earlier during a three-game series at Wrigley Field.
"Chris Johnson is a likeable, loveable guy," Gonzalez said. "Sometimes in the course of a game, the adrenaline flows. TP is about as close to [Johnson] as he is with anybody on the team. It's over with. I've spoken to Chris and I've spoken to TP. Those two gentlemen have spoken, and that is it."
While attempting to help the Braves finish the season with the National League's best record, Johnson has spent the past week seeing his chance to win a batting title evaporate. He entered last Sunday leading the race. But his batting average has dropped from .332 to .321 as he has recorded just two hits in his past 23 at-bats.
"I'm a fiery guy too," Johnson said. "It's one of those things where I need to find a way to cool off. That was TP's way of trying to help me out. Everything is all good."
Mark Bowman is a reporter for MLB.com. Eric Single is an associate reporter for MLB.com. This story was not subject to the approval of Major League Baseball or its clubs.