Hurdle hopes to not use Cole in Wild Card Game
Hurdle hopes to not use Cole in Wild Card Game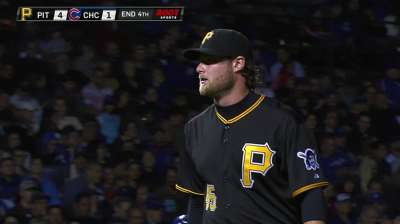 CINCINNATI -- Instead of getting to pitch the biggest game of his life, Gerrit Cole on Sunday got to watch Brandon Cumpton start the Pirates' "smallest" game in 21 years.
Such was the effect of the Bucs' Wild Card home-field clinching victory Saturday. Other than forcing Cole to make an emotional adjustment, this was not a bad development for a young right-hander whose innings count has been of ongoing concern.
"Yeah, we don't mind him getting a blow," said manager Clint Hurdle, who hopes Cole's down-time continues through Tuesday night's Wild Card Game at PNC Park against the Reds.
Cole could have two major roles in that play-in game, neither preferred: Early, if starter Francisco Liriano needs rescue; or very late, if the game turns into an extra-inning marathon.
"So I hope he gets a blow Tuesday night, too, because if I use him, it'll be only if there are some early complications for Frankie, or we're in an extended game," Hurdle said. "Then we'll figure out what's next, how we'll set up."
Cole is locked into the Pirates' rotation, should it progress beyond Tuesday, but where he will be slotted obviously depends on whether he is needed in the Wild Card Game. He last pitched this past Tuesday, so he will be dealing with at least 10 days between starts.
"There are three options for keeping him as sharp as possible," said Hurdle. "More aggressive bullpens, throwing to hitters in a bullpen, or simulated batting practice."
Tom Singer is a reporter for MLB.com and writes an MLBlog Change for a Nickel. He can also be found on Twitter @Tom_Singer. This story was not subject to the approval of Major League Baseball or its clubs.