Reynolds' blast in 14th ends season on high note
Reynolds' blast in 14th ends season on high note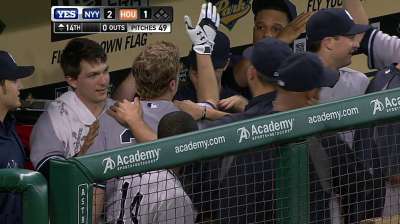 HOUSTON -- As the zeros continued to line up across the scoreboard and the game drifted deep into extra innings, the Yankees started to wonder if Mariano Rivera and Andy Pettitte were ever going to be allowed to go home.
Mark Reynolds supplied the answer with a tiebreaking home run and the Yankees added three runs to seal the deal, completing their season with a 5-1 victory over the Astros on Sunday at Minute Maid Park.
"I think a lot of us were excited," Yankees manager Joe Girardi said. "It's interesting, the baseball gods didn't want to let Mo and Andy go home. We thought we'd play as long as we could."
Rivera and Pettitte were tasked with bringing the Yankees' lineup card to home plate as part of their final afternoon in big league uniforms, watching a cast of younger talent wrap up the Yankees' campaign with an 85-77 record.
Reynolds' go-ahead shot off the Astros' Lucas Harrell cleared the Yankees for takeoff as they scatter to the winds -- Rivera on the team charter back to New York, Pettitte to his home in Deer Park, Texas, and the rest of the club absent from postseason play for just the second time in the last 19 years.
"I would say we worked hard the whole year," Rivera said after the three-hour, 52-minute contest. "Now, it's over. There's a sense of relief."
This will be an eventful offseason of changes for the Bombers, who finished third in the American League East by virtue of a tiebreaker as the Orioles finished with an identical record.
"We've had questions before," Yankees captain Derek Jeter said. "There's been questions most offseasons. There might be a few more this year, but there's been years when there's been a lot of guys we weren't sure were coming back."
The first domino to fall will go down on Monday, as Alex Rodriguez starts his appeal of a 211-game suspension at Major League Baseball's offices in New York. Rodriguez said that he plans to be present for all of the proceedings.
"I'm fighting for my life and my whole legacy. I should be there," Rodriguez said.
Should Rodriguez's suspension be upheld, the Yankees would have $25 million in salary come off their books for the 2014 season. Considering managing general partner Hal Steinbrenner's goal of reducing payroll under $189 million, that would be a key development.
Jeter said that the Yankees should be able to field a competitive club even if Steinbrenner follows through.
"How many teams are over that? Come on now," Jeter said. "If you can't win with 189 million dollars? It's not like we're sitting here saying our payroll is $50 million, so I don't pay attention to that."
The Yankees have plenty of decisions to make coming off this injury-marred campaign, highlighted by the free agency of All-Star second baseman Robinson Cano, who is reportedly seeking a 10-year, $305 million pact.
"This is my first time in this kind of process," Cano said. "I just have to wait until next month and see if it's stressful, how it is. I cannot tell you if it's something [I'm] excited [about] or what it is."
New York will also be in the market for at least one starting pitcher, needing talent to slot behind CC Sabathia and Ivan Nova in the rotation, and it will have to fill out a bullpen that projects to have David Robertson replacing Rivera in the closer's role.
"That would be my thinking," Rivera said. "I'm not the Yankees, I don't know what they're going to do, but I think he deserves a shot."
Curtis Granderson may have played his last game as a Yankee and Girardi's contract status is also unsettled, with a three-year, $9 million pact set to expire. Girardi said that he expects a quick resolution and conveyed that he has had a positive experience running the Yankees.
"You learn a lot about what it's like to sit in the chair," Girardi said. "I've really enjoyed it. I've really enjoyed my time here, as a player, as a broadcaster, as a manager. As someone who wasn't sure about New York when I came, it's a wonderful place."
Given those unanswered questions, the 2013 Yankees played a 162nd game that had the feeling of the last day of school. David Huff made a spot start and allowed a Matt Dominguez RBI single over five innings, scattering three hits and striking out seven.
Houston's Erik Bedard blanked the Yankees over seven innings, striking out nine and permitting three hits, but he was handed a no-decision as Granderson tied the game with an eighth-inning RBI single off reliever Kevin Chapman.
"Offensively, we just could not muster anything," said Astros manager Bo Porter, whose club completed the year on a 15-game losing streak. "You don't win too many scoring one run."
Eduardo Nunez had a two-run double and JR Murphy logged an RBI single in the win, which featured scoreless work by Yankees relievers Brett Marshall, Dellin Betances, Preston Claiborne, David Phelps, Matt Daley and Robertson.
"It's been kind of an interesting year," Girardi said. "To go 14 innings on the last day in a 1-1 game -- it's good to end on a good note."
Bryan Hoch is a reporter for MLB.com. Follow him on Twitter @bryanhoch and read his MLBlog, Bombers Beat. This story was not subject to the approval of Major League Baseball or its clubs.