Astros can't break slump despite Bedard's outing
Astros can't break slump despite Bedard's outing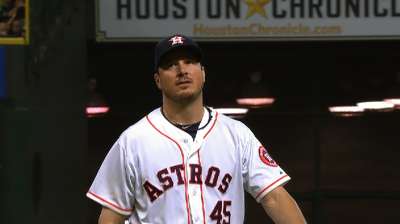 HOUSTON -- They exchanged goodbye hugs and tried to stuff as many belongings as they could into bags before going their separate ways for the offseason. They left Minute Maid Park for points all over the globe, knowing there was nowhere to go but up and only brighter days are ahead.
The Astros' first season in the American League was rougher than anything they had been through in 51 seasons in the National League. There were some bright spots along the way and more than a few road bumps, all the kinds of things you would expect from a rebuilding team that was the youngest in baseball.
No matter how young and inexperienced the Astros were this year, the last thing that they could have imagined was how the season ended.
Yankees first baseman Mark Reynolds led off the 14th inning with a home run to spark a four-run outburst and send the Astros to their 15th consecutive loss, 5-1, in the final game of the regular season on Sunday afternoon. The Astros finished with a 51-111 record.
"You would like to have fared better as far as the record," Astros first-year manager Bo Porter said. "I give those guys credit. Even these last 15 games, they've come to the park and toed it up every day and didn't bow down to any one of these teams. We made some mistakes to make it a little bit harder for ourselves, but other teams played us pretty well."
A crowd of 40,542 -- the largest for the Astros since Opening Day -- saw the Astros honor longtime Yankees closer Mariano Rivera in an on-field pregame ceremony that included former Yankees manager Joe Torre and former Astros and Yankees pitcher Roger Clemens.
The Yankees, who will open the 2014 season at Minute Maid Park, swept the series and have never lost in Houston (6-0).
"We took our lumps this year," Astros slugger Chris Carter said. "It was a learning experience for everybody. It was a lot of guys' first full seasons and we were just getting our feet wet. It gave everybody a chance to know what to expect for next year, and maybe we'll build off it."
The Astros, in addition to setting a franchise record for losses and consecutive losses, broke the D-backs' 2010 Major League record for the most strikeouts in a season. They struck out 19 times on Sunday, which was two shy of their single-game club record, to finish with 1,535.
"That really hurts you," Porter said. "Obviously, you strike out you don't give yourself a chance at all. At least if you put the ball in play, you have an opportunity to get a hit and they could mishandle the ball. There's many things that can happen when you put the ball in play and give yourself a chance."
Porter, who managed to stay upbeat in his first season as a big league manager, said the season was more about learning how to win than it was the record number of losses. The Astros got a close look at several players they believe will be key contributors in the years to come, and they believe next year will begin a move towards contention.
"We're at a point where we've evaluated a majority of the players we have," Porter said. "I think we have a good idea of the core pieces we want to move forward with, and this is a great baseball town. It's evident by the three-game series we had here. These fans are hungry for a winner, and from an organization standpoint, it's time to give them one."
Lucas Harrell pitched well in relief for Houston. He took over in the 10th and retired the first nine batters he faced, and he escaped a jam in the 13th before Reynolds walloped his 21st homer. Eduardo Nunez added a two-run double and JR Murphy hit an RBI single in the inning.
"I felt like we were going to be able to pull it out," Porter said. "Offensively, we just could not muster anything. We had some opportunities to get some big hits there and just could not come through. [Erik] Bedard did a great job. The bullpen did a great job. Lucas Harrell did an outstanding job of keeping it right there and giving us opportunity after opportunity. You don't win too many scoring one run."
Bedard allowed three hits and walked nobody while striking out nine batters, which was one shy of his season high. He hit two batters with pitches. Yankees starter David Huff worked five innings and allowed one run and three hits, and he struck out seven batters.
Matt Dominguez had an RBI single in the first inning to give the Astros a 1-0 lead. The game stayed that way until the eighth, when Nunez doubled and scored on a single by Curtis Granderson that tied it at 1.
The Astros battled for every out over the next six innings, desperate to put an end to their losing streak before the final out of the season was recorded.
"Would I have predicted we would only win 51 games? No, I would not have predicted that," Porter said. "At the same time, I knew what I was signing up for from the standpoint of we had to go through this process to get where it is we're trying to go. We gave a lot of guys playing time to show us exactly what it is they're going to be able to bring to our ballclub. I wouldn't change going through this process at all, because we had to go through this."
Brian McTaggart is a reporter for MLB.com and writes an MLBlog, Tag's Lines. Follow @brianmctaggart on Twitter. This story was not subject to the approval of Major League Baseball or its clubs.