Final month provides good look at promising rookies
Final month provides good look at promising rookies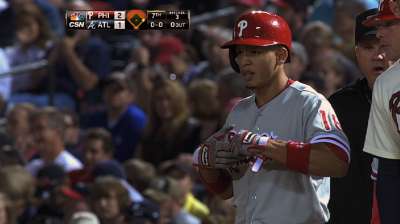 ATLANTA -- The past several weeks have been an excellent opportunity for rookies -- like Darin Ruf, Cody Asche, Cesar Hernandez and Cameron Rupp, among others -- to get experience and get comfortable in the big leagues.
But when the Phillies open Spring Training in Clearwater, Fla., in less than five months, they better be ready.
"I would say there's going to be a lot of decisions to be made and a lot of competition in Spring Training for jobs," Phillies manager Ryne Sandberg said this weekend at Turner Field. "We'll see what happens over the offseason. My advice for guys is: Be ready for what opportunities are there in the spring. From Day 1 in Clearwater, be in shape and ready to go to win a job."
There are plenty of possibilities for jobs next season.
Asche is the heavy favorite for the third baseman's job, despite a late-season slump, while it seems the Phillies will look outside the organization for an everyday right fielder to complement Domonic Brown in left and Ben Revere in center.
Ruf figures to compete for a bench job as a first baseman/outfielder because the Phillies desperately need to improve their outfield defense, which has been a glaring weakness. Freddy Galvis appears to be the leading candidate for one of the utility infielder jobs.
"Freddy Galvis is a Major League defender," Sandberg said. "I've seen some improvements on some good at-bats. I think he's done a nice job for himself and made a nice showing."
Sandberg has had Hernandez, who had a career-high four hits Saturday, hit leadoff the entire month of September. He can play second base and center field, and he plans to get a few looks in left field and possibly third base in winter ball to make him more versatile.
"A little added versatility, that would be a plus for him," Sandberg said. "He has a knack for swinging the bat. He has good hands. He hits the fastball."
Rupp could compete for the backup catcher's job. Sandberg has been impressed with the way he handles himself behind the plate.
"I thought Cameron Rupp was outstanding behind the plate," Sandberg said of Rupp's Saturday performance. "He must have had 20-something blocks, real good technique with all of them. He swung a big bat. He had a big two-out single to drive in the first two runs. He's an interesting guy. Strong arm. He's made a nice showing. I think he comes to Spring Training and competes for the job from what I've seen. He has good tools. He does a real nice job with the staff. He receives real well. The guys he is doing it with are top-notch guys. I think he competes next year."
Of course, these things depend on the other moves the Phillies make in the offseason. They have 10 players eligible for salary arbitration: left-handers John Lannan and Antonio Bastardo ; right-handers Kyle Kendrick and Zach Miner ; infielders Kevin Frandsen and Pete Orr ; outfielders Revere, Roger Bernadina, John Mayberry Jr., and Casper Wells.
Kendrick, Bastardo and Revere are locks. Frandsen is a near lock.
The rest are likely to be non-tendered.
There will certainly be jobs available on the pitching staff, too. Many of them have gotten good looks since Sandberg took charge in August, including Ethan Martin, who started Saturday because Roy Halladay could not pitch. Martin allowed four hits, one run, one walk and struck out two in three innings. He could be used in the bullpen.
Right-hander Luis Garcia followed with two scoreless innings. The Phillies like his arm a lot. Mike Stutes pitched a scoreless sixth and Jake Diekman pitched a scoreless seventh. Diekman is the best bet of any young Phillies reliever to earn a bullpen job.
B.J. Rosenberg pitched a scoreless eighth.
Todd Zolecki is a reporter for MLB.com. This story was not subject to the approval of Major League Baseball or its clubs.