As playoffs loom, Sox get in final tune-up
As playoffs loom, Sox get in final tune-up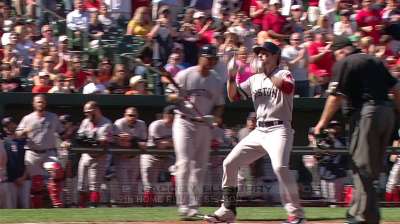 BALTIMORE -- For the first time since 2009, Game No. 162 did not represent the final act for the Red Sox.
Instead, they wrapped up their regular season with the anticipation for what awaits on Friday, when the American League Division Series will open at Fenway Park against a yet-to-be-determined opponent. The result was a 7-6 loss to the Orioles, but that hardly mattered.
With home field already wrapped up throughout the postseason, the 97-65 Red Sox could spend the final day of the season on their terms, preparing in the ways they wanted.
"We are right where we need to be," said David Ortiz. "We just finished well in the first ride, know what I'm saying? You just want to make sure that you're in the playoffs. Now, it's all about surviving."
The Red Sox will have to wait until Wednesday to learn who they are playing in the ALDS.
The Rangers and Rays will have a one-game playoff in Texas on Monday to determine who the second Wild Card team is in the AL. The winner of that game will play Terry Francona's Indians in Cleveland on Wednesday for the right to come to Boston.
One player Sunday was more important to than others was Jacoby Ellsbury, who was starting just his third game since returning from a compression fracture in his right foot.
Ellsbury demonstrated his health by leading off the game with a home run to right.
It was Ellsbury's third leadoff homer this season, and 10th of his career, passing Dom DiMaggio and Tommy Harper for the club record.
"I played three of the last four and I'm definitely now excited to go ahead to the postseason," said Ellsbury. "I mean, I'm ready to play."
Then there was Quintin Berry, who had a strong performance in his final audition to win a roster spot in the ALDS. Berry belted a two-run homer in the second and went 2-for-4.
"He's a confident player," said manager John Farrell. "And today in the only start that he's gotten all season for us since being acquired, he plays with a lot of confidence, particularly on the basepaths. There's no hesitation on his part. And in the role we acquired him for, that's going to be key going forward, if those situations arise."
From the mound, the Red Sox turned into a collaborative effort, as Farrell decided to rest John Lackey and give No. 3 prospect Allen Webster an abbreviated start.
The right-hander took the opportunity and ran with it, firing three shutout innings, allowing no hits and three walks while striking out two.
"It was good to see Webby come out and settle down after a rocky beginning of the first inning. He threw the ball very well," said Farrell.
It was not a very impressive day for lefty Felix Doubront, who would have to pitch out of the bullpen if he is on the postseason roster.
Doubront gave up five hits and five runs over 1 1/3 innings, walking three and striking out two. The lefty admits that transitioning back to the bullpen isn't easy for him.
"A little bit different," Doubront said. "It's not the same. I don't know. It's different. I haven't done that for a long time. The first inning was pretty good, but the second inning, I don't know. I think the ball was coming out of my hand really good. Bloopers, walks. I felt good."
Ryan Dempster, another rotation member who has transitioned to relief late in the season, seems primed to help Boston in October. The righty turned in two-thirds scoreless innings to turn in his third straight clean outing since going to the 'pen.
Mainstay relievers Craig Breslow and Koji Uehara got their final tune-ups in, each throwing a scoreless inning.
Farrell will give the entire team the day off on Monday. Everyone will reconvene at Fenway for workouts Tuesday-Thursday, and then comes the fun part.
"We're in a good situation, in good shape and everybody's healthy," said Ortiz. "Like everybody knows, the playoffs are ride-or-die, so you've got to bring your A-game every day."
The Red Sox did a pretty good job of that during the regular season, posting their best record since 2004 and tying the Cardinals for the best record in the Majors.
"You know, I think everybody in our organization is proud of the team that's been assembled here, the way they've represented not only Boston, but certainly the Red Sox," said Farrell. "There's been a lot of individual moments inside this season, but the characteristic of this team is one that's relentless. They don't give anything away. It's been a very fun bunch to be with."
Ian Browne is a reporter for MLB.com. Read his blog, Brownie Points, and follow him on Twitter @IanMBrowne. This story was not subject to the approval of Major League Baseball or its clubs.