Quintana reaches 200-innings mark in loss to Royals
Quintana reaches 200-innings mark in loss to Royals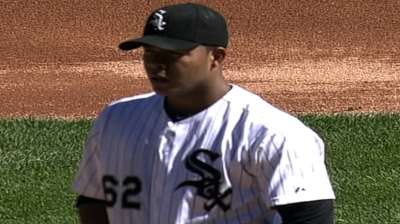 CHICAGO -- Jose Quintana joined Chris Sale as the second pitcher in the White Sox starting rotation to reach 200 innings for the season, but not before he yielded two costly two-run homers that sent Chicago to its 99th loss in the season's final game.
Quintana surrendered two-run shots to Salvador Perez and Brett Hayes, and Royals starter Bruce Chen held White Sox hitters in check, leading to a 4-1 loss to Kansas City at U.S. Cellular field on Sunday afternoon.
Quintana gave up the two-run homer to Perez in the fourth, and the homer to Hayes in the seventh. Beyond that, he allowed four hits, walked two and struck out four over seven innings.
Overall, the left-hander -- who led the Major Leagues with an American League record 17 no-decisions this season -- said he was happy with what he was able to accomplish in 2013, particularly because he stayed healthy.
"I'm very happy, because getting to 200 innings means I was healthy," Quintana said through translator and White Sox coach Lino Diaz. "I'm also happy because I feel like I learned a lot this year, so those are the two main things I feel good about.
"You always want to give more to the team. Last year, I had 136 innings, this year I had 200. I'm going to prepare myself for next year so I can come in and give even more."
White Sox manager Robin Ventura said reaching the 200-inning mark was a significant milestone for Quintana.
"That's a big number for pitchers and going into his second year, that's what guys are measured by is durability and being able to go out there and eat up innings," Ventura said. "That's an important thing for pitchers going forward and being able to have something like that in your career."
The White Sox scored their only run of the afternoon on a solo homer by Alexei Ramirez in the fourth, his sixth of the season. Ramirez was 2-for-3 and ended the season with three consecutive multi-hit efforts.
Chicago had another chance to score in the seventh, but with runners at first and second with two outs, Marcus Semien grounded into a forceout at second.
In the ninth, the White Sox loaded the bases with one out, but Royals closer Greg Holland struck out Gordon Beckham and Semien to notch his 47th save.
"It was just one of those things -- you can't always go in there and get three quick outs," Holland said. "I'd have taken three line drives there, for sure. Oh, I got probably three line drives, but they weren't at people."
In what may have been his final game, Paul Konerko popped out in his only at-bat before exiting with one out in the second. The 17-year veteran received a standing ovation during his at-bat and a standing ovation upon leaving the field. He emerged from the dugout for a curtain call and tipped his cap to the 22,633 on hand.
Konerko came out of the game because he strained his back in Saturday night's contest, but wanted to make the start at first base on Sunday.
"As luck would have it, I kind of re-aggravated something a little," Konerko said. "Not as bad as anything it was. I think it happened on that play last night where [Alex] Gordon broke his bat. I kind of flinched and it just kind of stiffened up on me."
Konerko -- who said Thursday that he would take a month off before deciding whether he would retire -- was touched by the ovations he received from the fans.
"It always feels good," he said. "The fans here have treated me great over the years. In a year like this, they treated me better than probably I deserved, really the whole team when you think about it. … It certainly feels better when you're doing World Series parades, but I don't take it for granted at all."
Chicago's 99 losses mark the fifth time in franchise history the team has lost 98 or more games in a campaign, and the White Sox finished in last place in the division for the first time since 1989.
Chicago also ended the season losing 23 of its final 30 games, and finished with a 37-44 home record, representing the fourth time the club has finished under .500 at U.S. Cellular Field since it's opening in 1991 (1999, 2007, 2011).
At the conclusion of a difficult year for a club that aspired to be in contention at the start of the season, Quintana said the White Sox can only look forward now that Game 162 is behind them.
"Obviously, nobody's happy with losing and we obviously didn't get to the goal as a team," Quintana said. "But the positive thing is to learn from it and to come back the very next year to see what we can do, come into Spring Training and get ready for the next season."
Ventura said that any time a team goes through a season like the one the White Sox have endured in 2013, it's a relief to be able to put it behind them and begin working on improvements going forward.
"Always, when you don't have a chance to go to the playoffs there is [a sense of relief at the end of the season] because you get a chance to regroup, retool and get ready in Spring Training," Ventura said. "And everybody is even again."
Manny Randhawa is an associate reporter for MLB.com. This story was not subject to the approval of Major League Baseball or its clubs.