Orioles erase five-run deficit to win season finale
Orioles erase five-run deficit to win season finale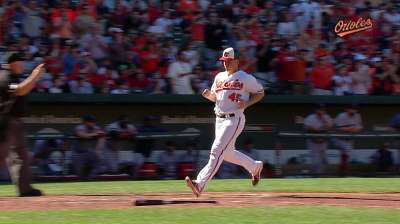 BALTIMORE -- After being eliminated last week, the Orioles had a team meeting with one of the topics discussed centering on the fact that 85 wins was a whole lot better than 81.
Although the Orioles didn't reach their ultimate goal of playing in October, they never gave up, winning four of their final five games to seal that 85-win season and provide hope for the future. Backed by a sellout crowd, the O's rallied from a five-run deficit and showed their moxie with a 7-6 win over the American League East champion Red Sox.
"They were talking earlier about how many people are lined up [to get in]," manager Buck Showalter said. "We get down 5-0, it eats at the players and us and Chris [Davis] and everybody. ... This isn't a club that went into the season trying to be the Wild Card. We were trying to win the division, and we competed well with the team that's probably the best in the American League, record-wise."
The victory closed the book on a solid year in which the Orioles posted their second consecutive winning season and drew more than 2.3 million fans for the first time since 2005. Baseball is back in Baltimore, and the Orioles -- who clinched the season series over the Red Sox with Saturday's win -- showed why they refused to be counted out. Led by a trio of multiple RBI afternoons -- from J.J. Hardy, Ryan Flaherty and Nate McLouth -- the Orioles' swan song was a happy one, marred only by the exit of first baseman Chris Davis, who left to a standing ovation in the fourth inning with a minor left wrist sprain.
"I thought they just came for the bobbleheads," closer Jim Johnson, who became the first AL reliever to post consecutive 50-save seasons, joked of the giveaway which was made in Davis' likeness.
"No, but the fans here, if you've been around for the last several years, you see how the crowds have changed and how you can walk around the town and see orange all the time, even during football season, so that's a good sign. Hopefully it's something that continues for a long time here."
In a 5-0 hole early, the O's tied the game in the fifth off Red Sox lefty Felix Doubront. Hardy's ground-rule double got the scoring started, plating Steve Clevenger and rookie Jonathan Schoop. Flaherty, who came in for Davis, followed with an RBI blooper into left field.
After Steve Pearce walked, McLouth drove a ball into right field to tie things at 5 and force John Farrell to insert Rubby De La Rosa, who got out of the inning. The O's took the lead in the following frame, with Schoop, who hit a leadoff single, scoring on Matt Thornton's wild pitch. Flaherty drove in his second run of the game, doubling in Brian Roberts, to give the Orioles a little breathing room.
"We always finish strong, I think," said starter Chris Tillman, who wanted to make his final outing despite where his team was in the race. "We grinded all the way through the season. We had a couple of tough losses in the middle of September. It was a grind all the way throughout. Being in that clubhouse, in that dugout, I know these guys aren't giving in until the last out's made."
Davis, one of several Orioles who has posted up in nearly every game, exited after a collision at first base in which he had his left wrist bent backwards by a hustling Jacoby Ellsbury. The first baseman, who was examined by head athletic trainer Richie Bancells, was moving his wrist around after that but came out of the game to resounding applause from the home crowd.
"The X-rays were negative. No breaks, no fractures," said Davis, who was honored before the game in receiving the Most Valuable Oriole Award. "Basically just a sprained wrist and it's nothing that should be lingering in the offseason."
Tillman, who became the club's fifth pitcher since 2001 to hit the 200-inning mark, heads into the winter on the heels of a career year, although Sunday's performance was far from his best. The right-hander allowed five runs (four earned) on eight hits and a walk over five innings in the no-decision that capped a season in which he went 16-7 with a 3.71 ERA, earning a late-replacement spot on the AL All-Star team and a spot atop the O's rotation next spring.
"It's still tough saying any personal kind of things right now," said Tillman, who was followed by three scoreless frames by T.J. McFarland and Jason Hammel. "I think we're all disappointed with how the season ended up. Nothing to hang our heads about. We're proud of where we're at. We made some steps in the right direction. We have a lot of room to get better."
Johnson finished the season off, stranding the tying run at third base with a game-ending double-play ball after the Red Sox came within a run.
"I think with as much effort as we put into the season, you're only doing yourself an injustice if you don't put your best effort forward even if you are eliminated," Johnson said. "It was a frustrating season, a difficult -- maybe disappointing -- season for a lot of us, and that's because we have expectations of where we should be. And that's unfortunately where we ended up."
Brittany Ghiroli is a reporter for MLB.com. Read her blog, Britt's Bird Watch, and follow her on Twitter @britt_ghiroli. This story was not subject to the approval of Major League Baseball or its clubs.