Verlander sharp, but Tigers no-hit in season finale
Verlander sharp, but Tigers no-hit in season finale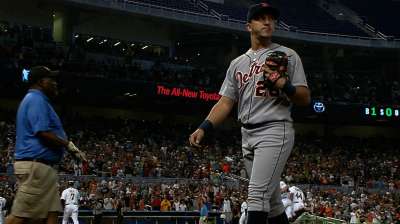 MIAMI -- Justin Verlander watched his sixth-inning drive off Henderson Alvarez carry down the right-field line and over Giancarlo Stanton's head, hoping it would drop fair, hoping it would stay straight.
Verlander has been waiting his entire career for his first Major League hit. He just couldn't have imagined that the Tigers would wait all day for their first hit in their regular-season finale against the Marlins on Sunday.
"It wasn't really slicing, and I was like, 'All right, I've got it,'" Verlander said, "and then it started curling a little bit, and I'm watching, just going, 'No, no, no.'
"It landed just foul, so I ran by Alvarez on my way back and I said, 'You'd have never heard the end of that if I got a hit right there.'"
Instead, the American League Central-champion Tigers stood in the locker room, fielding questions about being no-hit in a 1-0 walk-off loss that completed a three-game sweep in which they scored just three runs in as many games and slugged only one extra-base hit.
"This could be a good thing. This could be a wakeup call for our offense," manager Jim Leyland said.
And Verlander, whose six shutout innings and 10 strikeouts in his final tuneup before the postseason would have been the top news in nearly any other game, had to play the roles of wronged hitter and second-best pitcher.
"I thought about that afterward, now that he no-hit us," Verlander said. "I was a couple of inches away from breaking it up. But hey, I don't want to do it to break up a no-hitter. I just want to do it so I get a hit."
After spending the past month talking about this series as a deadline to get his pitching in order, Verlander gave every sign that he's there, overpowering a young Marlins lineup with a mid-90s fastball he commanded, a slider that was in and out, and a curveball with a sharp break.
For the second consecutive start, Verlander did not have an out recorded at first base. Eight of the first 12 outs came via strikeout, most of them on fastballs. He sent down Stanton swinging at a 95-mph fastball to strand a runner in the opening inning, caught Stanton looking at 97 mph in the fourth, then finished him off by dropping a curveball onto the plate to end his sixth and final inning.
Verlander tossed 12 scoreless innings on nine hits over his last two starts, at Minnesota and Miami, striking out 22 and walking four. He'll face a tougher Oakland lineup in the American League Division Series, but as prep work goes, he's growing increasingly confident.
"I think I've put in as much work as I can, and I think the last couple of starts have gotten better and better," he said. "Now it's just time to step on the gas."
All that Verlander, Doug Fister and Rick Porcello -- the latter two pitching in relief -- could do was keep the scoreless duel going. They carried it long enough that Alvarez's no-hit bid required a ninth-inning run to end it. Back-to-back one-out singles and two wild pitches from Luke Putkonen gave the Marlins the opportunity.
Alvarez became the first pitcher to no-hit the Tigers since Matt Garza, then pitching for Tampa Bay, shut them down on July 26, 2010, at Tropicana Field. Alvarez also became the latest pitcher to stir concerns about a Tigers offense that scored 14 runs over the final seven regular-season games.
It was enough of a concern that Leyland brought it up after Saturday's 2-1 loss in 10 innings, but it was not enough to change the plan to rest several regulars for part or all of the finale.
"I want to be very careful with this, because I don't want to take anything away from [Alvarez]," Leyland said. "He was terrific. He had good stuff, very aggressive, just pitched a tremendous game. But guys are in and out. You're taking them out early after a couple of at-bats. You're mixing guys in. You're just trying to keep everybody going a little bit. But this is all to [Alvarez's] credit. He was terrific, and I tip my cap to him."
Miguel Cabrera rested after playing the first two games of the series. So did Torii Hunter and Austin Jackson. Prince Fielder, Omar Infante and Jose Iglesias left after two plate appearances, and Alex Avila didn't start, entering as a pinch-hitter in the ninth inning.
In that sense and others, Sunday's game had the feel of an end-of-Spring Training affair. The Tigers swung early and often against Alvarez, who needed just 99 pitches to get through nine innings.
The only three Tigers to reach base were Fielder, who was hit by a pitch in the first inning; Iglesias, who reached on an error by shortstop Adeiny Hechavarria in the fifth; and Andy Dirks, who walked on four pitches with two outs in the ninth.
After his near-hit, Verlander is 0-for-26 as a batter over the regular season, and he's 0-for-1 in the World Series.
"Verlander's ball, I thought, was fair," Alvarez said. "Then when he ran by me, he kind of gave a smile, like he was saying, 'Be ready.' That's when I realized I should start to mix a slider in there. That was too close."
Neither Cabrera nor Victor Martinez grabbed a bat at any point. The only pinch-hitter the Tigers used was Avila, who hit a comebacker leading off the ninth.
Even with their regulars in the mix, however, offense has been a concern. The Tigers scored two runs or fewer in 11 of their final 26 games, including the last four, and finished with 12 shutouts thrown against them.
"Even when we've got all the guys in there, we've got to start doing a little bit better," Leyland said. "They'll be ready to go. I've seen some good signs: Fielder, Cabrera, Victor, Jackson. But it's not a matter of just getting hits. We've got to also get on the board."
Jason Beck is a reporter for MLB.com. Read Beck's Blog and follow him on Twitter @beckjason. This story was not subject to the approval of Major League Baseball or its clubs.