Nava's four hits not enough for clinching Red Sox
Nava's four hits not enough for clinching Red Sox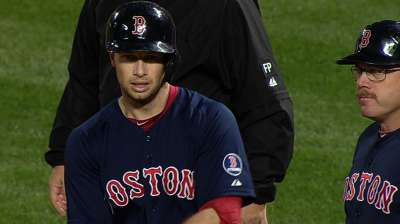 BALTIMORE -- Daniel Nava started the season fighting for playing time. He is likely to finish it as a .300 hitter.
The outfielder continued to show why he has been one of the most indispensable players on the Red Sox, producing a four-hit performance in a 6-5 loss to the Orioles on Saturday night.
Nava started the night with a .297 average. His fourth hit, a single that snapped a 4-4 tie, put him at .303.
"Oh it does? Honestly, I have no clue what [my batting average] is," said Nava. "It's the first time I heard that. Originally I got to the field and I wasn't in the lineup, and then it just worked out that I got in the lineup, so I just made it a blessing."
For the first time this season, the Red Sox played a game that had no bearing on their postseason positioning. The Athletics lost to the Mariners just as the game at Camden Yards was starting, meaning Boston clinched home-field advantage throughout the postseason.
"That's a pretty big accomplishment for our team," Dustin Pedroia said. "There's a lot of great teams. We've got the best record. It sets us up nicely. We've still got to go out and play well, obviously. It doesn't matter where you're playing. But it helps us that we get to hit last."
Jon Lester, who will likely be manager John Farrell's choice to start Game 1 of the American League Division Series on Friday, allowed nine hits and four runs over five innings.
The lefty took a no-decision, but finished with far better numbers this season (15-8, 3.75 ERA) than a year ago (9-14, 4.82).
"They fought off some pitches up in the strike zone when they bunched the hits together for those two runs in that fifth inning," said Farrell. "Given the way he's kind of righted the ship from a year ago to this year, a very strong season overall when you consider a little bit of the trough he went through in May. A very strong year from Jon."
Lester left immediately after his start was over for a good reason. His wife, Farrah, will be induced into labor on Sunday morning, delivering the couple's second child.
Nava's single in the seventh gave the Red Sox their first lead at 5-4.
"Well, not only to finish with the batting average that he's put up but he gets four base-hits from the right side of the plate tonight, and I'm sure he's got to take from this some increased confidence when he's facing left-handers," said Farrell. "He's done an outstanding job for us all year and continues to finish on a high note, on a strong note, the way he's swinging the bat over this past week. Excellent job."
Junichi Tazawa, after pitching a scoreless seventh, started the eighth, giving up back-to-back singles. Franklin Morales looked dominant in striking out Nick Markakis.
But Steve Pearce ripped a two-run double against Morales, putting Baltimore back in front.
"Well, after he got through such a clean and efficient seventh, we're looking to piece together the eighth," said Farrell. "Unfortunately it didn't work."
The Orioles broke out first, getting an RBI double from Pearce to take a 1-0 lead in the second. Brian Roberts ripped a solo homer to left to make it 2-0 in the third.
The Red Sox, after being shut down by Wei-Yin Chen in the first three innings, got a bloop RBI single down the right-field line from David Ross in the fourth. Dustin Pedroia tied the game with an RBI single in the fifth.
But back came the Orioles against Lester in the fifth. Matt Wieters and Danny Valencia came up with back-to-back RBI singles to give Baltimore the lead at 4-2.
Ross sliced the deficit to a run in the sixth with an RBI double to left.
Jonny Gomes tied it at 4 when he smacked an RBI single in the seventh. Nava came up next, and his line single was bobbled by left fielder Jason Pridie, allowing Pedroia to score to give the Red Sox their first lead of the night.
"I think that's one of those reflective things you look back on and say, 'Wow.' I never would have said I had a standard to hit .300," said Nava. "But to hit .300, God's done a lot to allow that to happen, so that's pretty cool."
Ian Browne is a reporter for MLB.com. Read his blog, Brownie Points, and follow him on Twitter @IanMBrowne. This story was not subject to the approval of Major League Baseball or its clubs.