McCarthy's strong outing falls short vs. Haren
McCarthy's strong outing falls short vs. Haren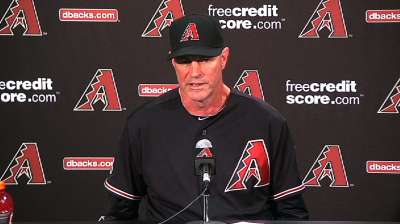 PHOENIX -- D-backs right-hander Brandon McCarthy was good Saturday night, but Dan Haren was better.
Haren, the former D-back, tossed seven scoreless innings as the Nationals beat the D-backs, 2-0, at Chase Field.
The loss was the 81st of the year for the D-backs, who must win Sunday's finale to finish at the .500 mark for the second season in a row.
McCarthy (5-11) allowed two runs on five hits over seven innings.
"When you go seven innings and give up two runs, you expect to win those games," D-backs manager Kirk Gibson said.
But the D-backs did not win, because the offense once again struggled to produce.
After posting a combined 24 runs in a three-game series in Denver last weekend, the D-backs scored just seven runs in a four-game set in San Diego before getting four runs against the Nats in Friday's series opener.
"We just haven't hit," Gibson said. "We've scored 11 runs in six games. [Haren] pitched a good game, and we give him credit, but you have to have better opportunities and make the most of your opportunities."
It was a vintage Haren performance -- one Arizona fans are familiar with seeing. Haren won 37 games for the D-backs from 2008 until July 2010, when he was dealt to the Angels for a package that included left-hander Patrick Corbin.
Haren (10-14) allowed just four hits and a walk while striking out five Saturday.
"I felt great out there," Haren said. "I'm happy with the way I finished out for me. Team-wise, we didn't meet expectations. Overall, this team built a lot of character this year. I probably won't be a part of it next year. But the Nationals are going to be scary team next year."
As for McCarthy, his 2013 numbers might not be what he envisioned thanks to a rough start and two months missed because of injury, but he has finished his first season in Arizona on a strong note.
"I think he's thrown the ball well since he's come off the disabled list," Gibson said. "Got to find a way to keep him healthy all throughout the year. He threw the ball good today. They have a very potent lineup, and he held them down."
McCarthy cruised through the first four innings and pitched out of a jam in the fifth.
But in the sixth, the Nationals broke through. Denard Span led off with a triple to right and scored when Ryan Zimmerman followed with a groundout to short.
Then, in the seventh, former D-backs infielder Chad Tracy blasted a McCarthy offering into the pool area in right-center to put Washington up, 2-0.
"There were a few pitches here and there that I didn't execute, especially to Tracy on the home run," McCarthy said. "The triple by Span was actually a pitch I thought was all right, and it was one of the good changeups I've thrown this entire year."
Improving the changeup and getting more consistent with his breaking ball, particularly when throwing it with two strikes, are two things that McCarthy will work on during the offseason.
The D-backs will continue to try to find ways to keep him healthy. This was the fifth consecutive year in which McCarthy spent time on the disabled list, this time with a shoulder issue.
The shoulder acted up in late May, just as he was starting to pitch better after a rough start. In 2012, McCarthy missed the final month of the season after being struck in the head with a line drive while with the A's.
The scars of that injury probably lasted longer than McCarthy cared to acknowledge at the time.
"In the first half of the season, I just kind of felt like I was a shell of myself, and even coming back until I got mechanically right it felt the same," McCarthy said. "At least at the end I felt like it was normal again, where there's still steps that I can take to become better and better."
Improvement is something that will be needed from the Arizona offense next season.
"They haven't been as offensive as we were earlier," Gibson said. "Our situational hitting just hasn't been as good. I do think the season has wore on us a little bit, and we're just not performing well offensively right now."
Steve Gilbert is a reporter for MLB.com. Read his blog, Inside the D-backs, and follow him on Twitter @SteveGilbertMLB. This story was not subject to the approval of Major League Baseball or its clubs.