Haren concludes potential Nats finale with win
Haren concludes potential Nats finale with win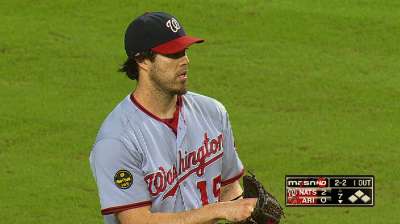 WASHINGTON -- Right-hander Dan Haren most likely pitched his last game as a member of the Nationals on Saturday night, and it was arguably his best of the season as the Nationals blanked the D-backs, 2-0, at Chase Field.
Haren pitched seven scoreless innings, allowing four hits with five strikeouts. At one point, Haren had retired 12 of the 14 hitters he faced. For the season, Haren went 10-14 with a 4.69 ERA, but he had a respectable 3.29 ERA after coming off the disabled list July 8. Haren will be a free agent after the World Series, and he is well aware that he most likely will not be back with the team.
"I felt great out there; I'm happy with the way I finished out for me," Haren said. "Team-wise, we didn't meet expectations. Overall, this team built a lot of character this year. I probably won't be a part of it next year. But the Nationals are going to be a scary team next year. Nobody wanted to play us this year. If we got in, we would have been the team to beat. The talent is there next year. This organization is in a good place."
When things were going wrong on the mound, Haren, as a standup guy, always appeared ready to face the music.
"Your real character shows when you are down," Haren said. "I tried to be a team guy, like I have been [with the media]. I try to be a stand-up and honest guy; I don't like to give generic answers. I like to tell it how it is. I think people respect that more."
Manager Davey Johnson believes Haren has a lot left in the tank and will not have any problems looking for a job during the offseason.
"I love his demeanor; I love his professionalism," Johnson said. "He knows what he wants to do. He goes out and does it. He is a big-game pitcher. Pitching is always hard to come by."
But on this evening, everything went right. Haren was given a 1-0 lead in the sixth inning off right-hander Brandon McCarthy. Denard Span led off the inning with triple and scored on a groundout by Ryan Zimmerman.
One inning later, Chad Tracy, filling in for the injured Adam LaRoche, hit his fourth home run over the wall in right-center field to give Washington a two-run lead. It was Tracy's first home run since June 17 against the Phillies.
Like Haren, Tracy most likely played his last game a member of the Nationals.
"Any time you have a game like tonight, it feels good, regardless of when it is," Tracy said. "To finish out on a good note is always good."
Relievers Drew Storen and Rafael Soriano blanked the D-backs the final two innings, and Washington won its 86th game of the season.
The victory also means Johnson will end his managerial career at least 300 wins over .500. Entering Sunday's action, his record is 1,372-1,070. Johnson said he became aware of his record after reading it in the Nationals' pregame notes.
"I told Desi [Ian Desmond] and a couple of guys that I would like to have 300 over the loss column," Johnson said. They were able to get the job done in Arizona.
Even if Johnson did not get his desired record, the manager was planning to play mostly rookies during his last game.
"Those guys are great; they were feeling it as much as I was, and it was wonderful," Johnson said.
After the game ended, Johnson had a meeting with his players and thanked them for the effort they gave him. He received a bottle of wine as a thank-you present. Johnson received hugs and a nice round of applause from his players.
Bill Ladson is a reporter for MLB.com and writes an MLBlog, All Nats All the time. He also could be found on Twitter @WashinNats This story was not subject to the approval of Major League Baseball or its clubs.