Rivera's retirement hits home for Delgado
Rivera's retirement hits home for Delgado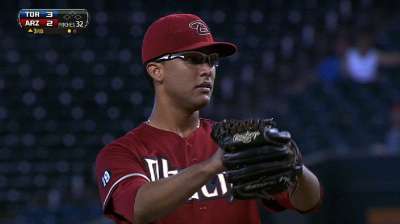 PHOENIX -- Growing up less than 200 miles from where his country's most celebrated athlete was born, Panama native Randall Delgado was just 5 years old when Mariano Rivera made his Major League debut in 1995. From that point on, the D-backs right-hander naturally became a fan of the Yankees great, watching him pitch on television whenever he could.
So when Delgado sat back and watched Rivera's final appearance at Yankee Stadium -- a celebration that culminated when Andy Pettitte and Derek Jeter removed the closer from Thursday night's game with two outs in the ninth -- the 23-year-old understandably got emotional.
"I almost cried, man," he said. "I've been a big fan since I was little. Even with the knowledge that he was going to retire at the end of the year, I just couldn't believe it until that happened. I felt like, 'Wow.' I mean, you think about everything he has done, it's hard to describe the emotions. All I know is I felt happy and proud to be Panamanian."
Although Delgado was not with the D-backs when the club visited the Yankees earlier this season, he has met his countryman once before, when he visited Rivera's Spring Training home in Florida in 2012 while he was with the Braves. That night still holds a special place in Delgado's memory.
"It was great; he invited us over, and we shared with him and his family," Delgado said. "We had a good dinner, and we got some good advice from him. I couldn't believe it. He was so great."
When Rivera takes off his jersey Sunday for the final time, Delgado will become one of only six active big leaguers from Panama. He hopes he can continue to advance his country's place in the Majors down the road.
"I know everyone will miss watching Rivera," Delgado said. "He meant so much to Panama, so you wonder what's going to happen next, but he definitely motivated me."
Tyler Emerick is an associate reporter for MLB.com. This story was not subject to the approval of Major League Baseball or its clubs.