Santiago targets starting job for White Sox in 2014
Santiago targets starting job for White Sox in 2014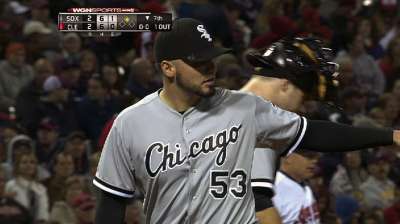 CHICAGO -- During an end-of-the-season conversation, White Sox pitching coach Don Cooper told Hector Santiago that he views the southpaw as part of the 2014 starting rotation.
Of course, that conversation took place this last week of September, and more than any other White Sox offseason in recent memory, everything is open to change. Santiago could be part of a rotation featuring four left-handers, or he could be traded from a position of depth to help strengthen another area on the team.
Santiago might even end up back in the bullpen, serving in that hybrid swing roll between reliever and starter. And even after posting a 3.51 ERA over 23 starts and fanning 122 over 130 2/3 innings, the 25-year-old wouldn't really be bothered if he was switched out of a startering job.
"In the back of my head, it probably would [bother me]. It would be like I felt like I did enough to earn a spot," Santiago said. "But I understand the whole situation and I just want to play. I want to be out there pitching, whether it's throwing one inning or seven or eight."
Assuming Santiago remains a starter, he already has targeted areas of improvement over the next few months. He didn't specifically feel weak over the last few weeks, as his 149 innings pitched between the rotation and bullpen surpassed his previous single-season high, but his legs definitely didn't feel as strong as they did around the All-Star break.
So Santiago is looking to improve his endurance and become more of a seven- or eight-innings sort of starter. Cutting down on the 72 walks issued would reduce his pitch count and allow him to work deeper into games.
That high pitch count also has given some scouts pause for thought as to whether Santiago is a better bullpen fit. He'd prefer to remain a starter, but is ready for any role the White Sox envision.
"I'm up for anything," said Santiago, who understands the White Sox possibly could add a veteran starter to the mix. "I kind of think I did enough to earn my [rotation] spot there. But if I have to be the long guy again and earn my way back into the rotation, I'm fine with that too."
Scott Merkin is a reporter for MLB.com. Read his blog, Merk's Works, and follow him on Twitter @scottmerkin. This story was not subject to the approval of Major League Baseball or its clubs.