Ruiz hopes Phillies career isn't nearing its end
Ruiz hopes Phillies career isn't nearing its end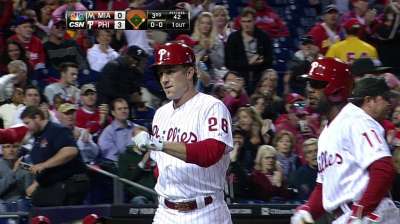 ATLANTA -- Sunday could be Carlos Ruiz's final game in a Phillies uniform.
The impending free-agent catcher hopes to play, but a bone bruise on his right hand kept him out of Saturday's lineup against the Braves at Turner Field. Phillies general manager Ruben Amaro Jr. reiterated Saturday he wants Ruiz back next season.
"He is a priority, just because of the position," Amaro said. "We don't have anybody who is going to step in. [Cameron] Rupp has done a nice job. [Erik] Kratz, when he played, did OK. But I can't anoint either one of those guys as an everyday catcher. I talked to [Ruiz]. He talked to me. I think mutually we would like to continue the relationship. But again, it takes two to tango. At some point we'll get together, negotiate, and see where it goes."
"I was thinking the last couple days, I don't know where I'm going to be," Ruiz said. "Maybe here or somewhere. I hope here. It's something I'm talking to my family about almost every day. I'm really happy here, but at the same time, it's not in my hands."
Ruiz does not sound like a man terribly eager to hit the open market, but he isn't going to take what he considers an unfair deal, either.
"I hope I don't have to go through that," he said about free agency. "But if nothing happens before the World Series, I'm going to see what the market is. But like I said, I hope to have something done before then."
Neither party would say if they are negotiating, but there certainly is a desire to get something done before free agency opens five days after the final game of the World Series.
Ruiz turns 35 in January, and he is coming off his worst offensive season since 2008. He opened the year serving a 25-game suspension for using a banned stimulant. He later missed a month due to a strained right hamstring. He was hitting .248 with four doubles, one home run, 11 RBIs and a .589 OPS in his first 49 games, but he has hit .289 with 12 doubles, four homers, 26 RBIs and a .796 OPS in 43 games since early August.
"I feel great," Ruiz said. "I hope to play five or six more years, you know?"
But where?
Todd Zolecki is a reporter for MLB.com. This story was not subject to the approval of Major League Baseball or its clubs.