A's locked into No. 2 seed after Parker's bumpy day
A's locked into No. 2 seed after Parker's bumpy day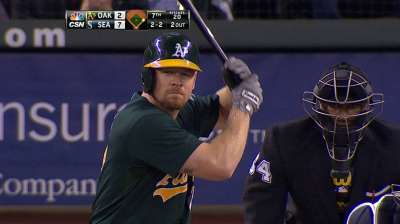 SEATTLE -- Jarrod Parker gave up a pair of home runs to Mariners rookie shortstop Brad Miller, including a grand slam, as the division-champion A's fell by a 7-5 margin on Saturday.
First baseman Justin Smoak mashed a two-run shot off Parker in the second inning as the A's starter gave up seven runs -- all on homers -- in just 4 1/3 innings of work.
"He just missed in the middle of the plate with some pitches and when he did, they didn't miss them," manager Bob Melvin said. "Miller was hunting the heater. If [Parker] makes his pitch, maybe it's off the barrel. But he throws it down the middle and he gets him."
With the loss, the A's are out of the running for the American League's top seed for the playoffs, meaning they will play the Tigers in the AL Division Series as the No. 2 seed. It will be a rematch of last year's ALDS, won by the Tigers in five games.
"We know that we have our work cut out for us and I think they know that as well," Brandon Moss said. "Last year I think we were a little bit of an unknown for them, and for a lot of us, they were an unknown because most of us hadn't even been here all year last year."
While Parker has been an effective starter for the A's this season, he has struggled with the long ball. He has given up 25 home runs this season -- including 18 on the road -- to be tied with teammate Tommy Milone and others for 16th in the Major Leagues.
He finishes the year having thrown 197 innings, a career high.
"It's not an easy workload, it's something I'm hopefully going to be able to do every year and get used to each and every year," Parker said.
The game was reminiscent of Parker's start against the Angels on Sept. 16, in which he also gave up seven runs in 4 1/3 innings. That game snapped a career-high nine-game winning streak and a 19-start unbeaten streak, the longest in club history.
An inability to bring baserunners home haunted Oakland throughout the contest. While the Mariners were clearing the basepaths with home runs, the A's, who out-hit the Mariners 10-7, left 10 men stranded on base to Seattle's one.
Coco Crisp got the A's on the board in the third inning, hitting a deep sacrifice fly to plate Stephen Vogt. The center fielder has driven in 26 runs over his last 34 games.
The A's trailed 3-1 entering the fifth inning before the Mariners broke the game open. The bottom third of Seattle's lineup hit three consecutive singles off Parker to load the bases for the leadoff hitter, Miller, who hit a first-pitch homer in the third inning. This time, Miller deposited Parker's 2-1 offering in the right-field stands, ending the pitcher's evening and giving Seattle a six-run lead.
"You just want to do your job and get that first guy in," Miller said. "I was just trying to get a ball in the air and drive something. I was lucky to get one."
But Seattle rookie Brandon Maurer was able to adequately hold down Oakland's powerful offense, allowing two runs on six scattered hits over 5 1/3 innings. Maurer has had an up-and-down rookie season, accumulating a 6.30 ERA, but he has undeniable talent that was on full display on Saturday.
The A's still had a chance to win in the eighth. Trailing by two runs, Chris Young led the inning off with a double, and walks drawn by Crisp and Josh Donaldson loaded the bases. However, Jed Lowrie struck out looking to end the threat.
Oakland scored three runs off Chance Ruffin on back-to-back homers from Moss and Alberto Callaspo in the seventh.
The home run was No. 30 for Moss on the season. The feat is made all the more impressive by the fact that Moss has just 503 plate appearances in 2013.
"Hitting 30 home runs, whether you have 100 at-bats or 700 at-bats, I don't care," Moss said. "It's a round number that has more put on it than it should, but when you play this game hitting .300, or 30 home runs or 100 RBIs; there's a significance to them for a reason."
Jacob Thorpe is an associate reporter for MLB.com. This story was not subject to the approval of Major League Baseball or its clubs.