Chen feels fresh at end of fifth season in Kansas City
Chen feels fresh at end of fifth season in Kansas City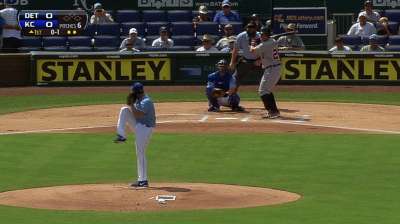 CHICAGO -- Left-hander Bruce Chen will pitch the Royals' season finale Sunday, and he's actually feeling pretty fresh. He spent the first half of the season in the bullpen and pitched just 33 2/3 innings before he moved into the rotation on July 12.
After 14 starts and 19 relief appearances, he's at 114 1/3 innings, his lowest total in four years.
"I feel good. I'm not lying to you, but this is the best I've felt in the last three or four years, because usually by this time, you have over 150 innings or 160," Chen said. "And also, I want to push myself and see what I'd be like if we had gone all the way down to the wire. I want to finish strong, so if we'd been in the postseason, I'd feel like I still had more in the tank."
This is Chen's fifth year with the Royals, and because he's a potential free agent, it could be his last. But it certainly was the most exciting.
"The last eight weeks of the season have been great," he said. "I know we started way back at the All-Star break, but after we started winning some games, we were saying, 'Hey, we're close in the Wild Card hunt.' It was very exciting and everyone was into it, everyone was fighting to give this team a chance to win. And we came close."
Chen has already expressed interest in returning to Kansas City.
"This team is very good, they want to win, and it will be very interesting to see what happens here next year," Chen said. "I think the potential is here, and I expect great things from this team next year."
Dick Kaegel is a reporter for MLB.com. This story was not subject to the approval of Major League Baseball or its clubs.