Padres turn tide after Medica's gritty at-bat
Padres turn tide after Medica's gritty at-bat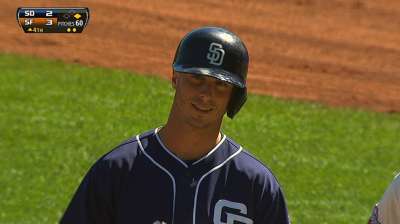 SAN FRANCISCO -- It went down as an RBI single in the penultimate game of the year between two non-contenders. But for Padres manager Bud Black, Tommy Medica's fourth-inning at-bat Saturday was one to remember.
"One of the best at-bats of the year," Black said.
Medica's 14-pitch battle helped set the stage for a critical four-run outburst in the fourth inning, propelling the Padres to a 9-3 win over the Giants.
San Francisco starter Yusmeiro Petit quickly retired two batters to begin the top of the fourth before Chase Headley roped a double to left field. Then Medica came to the plate and kept fighting Petit, fouling off nine pitches before singling up the middle to score Headley.
From the dugout, Black could tell Medica had his hands full, saying Petit threw "all pitches, all locations, all velocities."
"He was throwing everything," Medica added. "He kept on making good pitches and I was just getting enough of them to stay alive. Finally got one in fair territory."
But that was hardly the rookie's only contribution on the day, as he finished 3-for-4 with a walk, a run and an RBI. Making the afternoon extra special were his friends and family, who were in the stands after making the drive up from Medica's hometown of San Jose.
"It was real neat to have some friends and family here to see that," Medica said.
The magnitude of Medica's at-bat was felt from both sides, with Petit mentioning it as a tipping point of the contest.
"This was a big factor in my performance today, because he was able to time all of my pitches," Petit said through a translator. "I made so many pitches, I threw everything to him. I give him a lot of credit because I feel that he timed them all and he drained me mentally."
Medica's triumph was just the start of the game-changing rally for the Padres, as Jesus Guzman followed with a two-run homer before Chris Robinson -- making his first career start -- added a single. But Petit wasn't knocked out of the game until his counterpart, Eric Stults, delivered an RBI single to cap off the rally and make it 5-3 Padres.
For a pitcher, there's always something special about chasing the other guy from the mound with a base knock.
"We like to say that we're a pitching staff that rakes," Stults said with a laugh. "When a guy gets a hit, we yell, 'We rake!' I don't know how much truth there is to that, but you can give your team or give yourself a chance to win and that's the goal."
Just minutes after his team wrapped up the victory, Black quickly reflected on the rest of the season and labeled the fourth-frame outburst as one of his team's most impressive innings all year, not to mention all four runs came with two outs.
"I'm sure there's a handful of others, but this was a good one," Black said. "We're down, we've got a rookie at the plate battling, we've got some of our bench players in the lineup playing. It was great. After Tommy's at-bat, I could see the energy shift a little bit in the dugout as the game went on."
Admittedly, Stults and Robinson took some time to form chemistry as San Diego's battery in their first time working together. But once they figured each other out, Stults was a tough customer for the Giants. The veteran lefty finished seven innings, allowing three runs on seven hits and no walks while striking out three.
Stults retired 13 of the final 15 batters he faced, wrapping up an effective season as the Padres' only pitcher to eclipse the 200-innings mark this year.
"It's definitely a milestone as a pitcher," Stults said. "You want to make every start. The mindset is to not get hurt and hope the management gives you the ball every fifth day. That was the goal from the start ... to try and be reliable when asked upon to pitch."
With the victory, Stults moved his record to 11-13, marking the first double-digit win total of his career, and he also lowered his ERA to 3.93. After making a mechanical tweak earlier in the month to keep a sharper angle on his fastball, Stults finished the year with four straight solid starts, going 3-0 with a 2.96 ERA in that span.
Both Stults and his manager said the key to the strong finish had to do with the southpaw relying on his fastball-changeup dynamic and mixing in his other offspeed pitches.
"He righted the ship here the last four starts and pitched great," Black said. "I thought he got stronger as the game went on."
The scored was locked at 5-3 until the top of the ninth, when the Padres tacked on four more runs to put the game out of reach. For the season finale Sunday, Tyson Ross and the Padres (76-85) will try to hold on to sole possession of third place in the National League West against the Giants and Guillermo Moscoso.
Alex Espinoza is a contributor to MLB.com. This story was not subject to the approval of Major League Baseball or its clubs.