Astros topped by Pettitte in local hero's final start
Astros topped by Pettitte in local hero's final start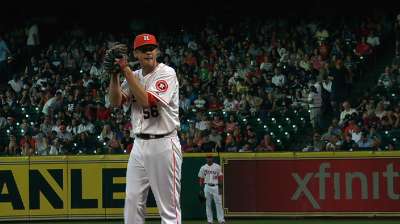 HOUSTON -- The Astros were able to step back and soak in the scene. They stood in front of the first-base dugout and clapped in unison while Andy Pettitte, who had just ended his career with a masterful complete game, tipped his cap to them and to one of the biggest crowds of the season.
Many of the fans at Minute Maid Park on Saturday night came to see Pettitte make his final start less than 20 miles from where he grew up in Deer Park, Texas, and in the ballpark he called home from 2004-06. This was his moment, his night.
The Astros battled Pettitte for nine innings and tried to spoil the finale of his 18-year career, but wound up in awe of the left-hander after he threw his first complete game in more than seven years to lead the Yankees to a 2-1 win.
"I'm trying to figure out why the guy's retiring as well as he threw the ball tonight," Astros manager Bo Porter said. "He was vintage Andy Pettitte. It's actually fitting for a guy who's had the kind of career in which he's put together, his body of work, to go out the way he went out."
The crowd of 37,199 was behind Pettitte's every pitch and roared in appreciation when he came out to the mound to start the ninth. There were boos when Yankees manager Joe Girardi went to the mound after Pettitte gave up a two-out single to Chris Carter, but Pettitte stayed in and got J.D. Martinez to ground out to end the game.
Pettitte, 41, hugged his teammates one by one and then went onto the field and tipped his cap to the crowd, which was chanting, "Andy! Andy!" Astros players and staff gave him a standing ovation from in front of their dugout, as well.
"I didn't even feel like I was worth to have that happen to me ... especially their guys, the fans here, because they don't know me, this team over here, and I appreciate that," Pettitte said. "And then our guys, obviously, know me better than anybody. There's so many guys that I'm so close to. I've been around a long time, so that was just a moment that I feel like I didn't deserve and I appreciated it."
As much of a feel-good night as it was for Pettitte, his performance sent the Astros to their 14th consecutive loss, extending a club record. They'll enter Sunday's season finale eager to find some kind of way to finish the season on a positive note.
"You don't want to end the season on a losing streak," Porter said. "It's unfortunate we've had this bump in the road late in the year. We had avoided the long [losing] stretch throughout the course of this year. It's almost like it's one play here, one play there that really end up being costly. Tomorrow we're going to come back and fight hard and try to end the season with a win heading to the offseason."
Astros rookie starter Paul Clemens (4-7), making only his fifth start, carried a shutout into the sixth before a cut on his right hand became an issue. He was pulled after giving up a game-tying one-out single to Robinson Cano in the sixth.
"It was an honor to get to go against him," Clemens said of Pettitte. "I wanted to give him a tough one. I didn't want him getting anything easy. He came out and proved why he has been so darn dominant in this game for so long, and truly it's going to be an honor to be able to look back and tell my kids I got to toe the same mound as Andy on his last day."
Later in the inning, the Yankees scored the go-ahead run on a bizarre play. With the bases loaded and Zoilo Almonte at the plate, Astros catcher Matt Pagnozzi spiked the ball into the ground while faking a throw to second base, and the ball rolled away just far enough for Eduardo Nunez to score and put the Yankees up, 2-1.
"I didn't have a grip and I was trying to stop my arm, and what happened, happened," Pagnozzi said. "It's pretty tough, especially with the skid we're on right now. Having it come down to be the go-ahead run that scored, so not something that you want to happen."
Porter said he spoke with Pagnozzi and rookie shortstop Jonathan Villar about the play. Villar was covering second base awaiting a throw from Pagnozzi, but Porter said it wasn't wise for Villar to leave his hole at shortstop.
"It's definitely a play that you would hope they would make better decisions," Porter said. "Obviously, it was a very costly error there and the man from third was able to score on that error. Again, it's more understanding the game situation and allowing the decision to dictate itself."
Once he got the lead, Pettitte (11-11) didn't let up. He retired 12 of the final 13 batters he faced after he walked Villar to lead off the sixth inning. Pettitte finished his career with 256 wins, including 37 in his three years in Houston.
He wasn't in an Astros uniform on Saturday, but he certainly made himself at home.
"I love this game so much and love competing," Pettitte said. "That's just built inside of you. I realize now you're never going to lose that because I already retired once. And I thought the competitiveness was beat out of me already. It's a shame we've got to get old, you know?"
Brian McTaggart is a reporter for MLB.com and writes an MLBlog, Tag's Lines. Follow @brianmctaggart on Twitter. This story was not subject to the approval of Major League Baseball or its clubs.