Leyland praises Selig's contributions to game
Leyland praises Selig's contributions to game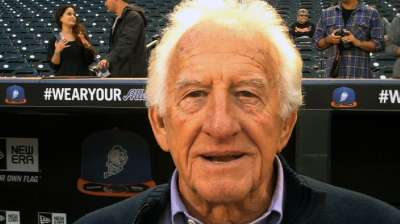 MIAMI -- Tigers manager Jim Leyland has known Bud Selig for years, and has helped him by taking a role on various committees. Now that the Major League Baseball commissioner has announced his plans to retire following the 2014 season, Leyland said he wasn't surprised, but that he leaves with a different legacy.
"I think he's like a guy that is in the Minor Leagues a long time," Leyland said. "When you're in the Minor Leagues a long time, they know you love the game. I compared it to that. He loves the game, and he's really tried to do his best for the welfare of the game.
"He's like anybody else that's the head of something. You're going to have people disagree with you. But at the end of the day, Bud Selig in my opinion has done an unbelievable, terrific job. I think he's been creative, he's tried to get it right, and I think he's been a tremendous ambassador for the game of baseball."
Jason Beck is a reporter for MLB.com. Read Beck's Blog and follow him on Twitter @beckjason. This story was not subject to the approval of Major League Baseball or its clubs.