Pettitte crafts completely fitting closing act
Pettitte crafts completely fitting closing act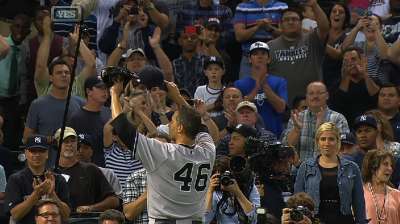 HOUSTON -- Andy Pettitte held the glove high in front of his face, his eyes intently peering over the black leather for the final time. In this season of farewells, the Yankees left-hander closed out his career with one more vintage performance.
Pettitte fought back emotions, ignored his aching body and emptied the tank to pitch his first complete game in seven years, spinning a five-hitter in a 2-1 victory over the Astros on Saturday night at Minute Maid Park.
"I couldn't have dreamed of this working out the way it did," Pettitte said. "I'm just so thankful and feel so blessed and fortunate. I just feel like God worked this out exactly perfect; another day I'll never forget."
In the dugout before the ninth inning, Pettitte asked pitching coach Larry Rothschild if he had enough left to finish the game. Rothschild shrugged, so Pettitte told manager Joe Girardi that if anyone got on base, he should "bring the kid in," referring to acting closer David Robertson.
Pettitte quickly recorded two outs on fly balls to right field, but Chris Carter flared a pitch into left field for a single. Girardi walked slowly to the mound, but quickly reversed course after tapping Pettitte on the chest.
"We left the decision in his hands every inning that he went back out," Girardi said. "He said, 'I can finish it.' I said, 'Go ahead then.'"
Pettitte did, inducing J.D. Martinez to chop a ground ball to third base that marked Pettitte's 26th career complete game and his first since Aug. 16, 2006, when he was pitching for the Astros against the Cubs.
A series of hugs and handshakes followed, and Pettitte doffed his cap to the crowd of 37,199, a mixture of Yankees and Astros fans who spent the ninth inning standing and chanting his name.
Pettitte shed tears when the baby-faced Astros spilled onto the field to offer their applause.
"That was just a moment that I feel like I didn't deserve," said Pettitte, again choking back his emotions. "And I appreciated it."
Houston's only run came on a fourth-inning groundout as Pettitte completed an 18-year career that wrapped up with his 256th career victory, ranking 42nd all time.
"I'm trying to figure out why the guy is retiring, as well as he threw the ball tonight," Astros manager Bo Porter said.
The lone member of the "Core Four" who did not spend his entire career in pinstripes, Pettitte said that it was fitting that he was able to end his career in Houston, where he went 37-26 from 2004-06 and helped the Astros to the 2005 World Series.
"I was driving in today thinking about Joe catching me, and now he's managing me," Pettitte said. "It's a good day, but man, it was a sad day, too."
Girardi said that the intensity in the dugout "felt like a playoff game," appropriate considering Pettitte exits as the all-time postseason wins leader with 19.
"I think that everyone in that dugout wanted it so bad for him, to go out on a winning note," Girardi said.
He had never compiled a losing record in his career, and Saturday's victory allowed Pettitte to finish his final season 11-11 with a 3.74 ERA in 30 starts. He was at his best in the season's final two months, reeling off nine straight quality starts as the Yankees fought to qualify for the playoffs.
"I just know that I didn't want to have a losing record," Pettitte said.
After being blanked through five frames by the Astros' Paul Clemens, the Yankees gave Pettitte the only runs he needed in the sixth inning. Robinson Cano stroked a run-scoring single to right field that drove home Chris Stewart with the first Yankees run.
With Chia-Jen Lo on in relief, Eduardo Nunez was able to score as catcher Matt Pagnozzi committed a strange error, spiking the ball into the dirt around home plate as he attempted to throw to second base with Cano on the move.
"Truly, it's going to be an honor to be able to look back and tell my kids I got to toe the same mound as Andy on his last day," Clemens said.
A notoriously tough critic of himself in postgame interviews, Pettitte said that he was glad that he did not have to go into retirement lamenting a misplaced pitch that might have spoiled the night.
"That's a good feeling," Pettitte said. "The last thing I wanted to do was be in here saying, 'Man, I hung a slider!'"
Pettitte completes his career with 219 victories over his 15 seasons as a Yankee, ranking third on the franchise's all-time list behind Whitey Ford (236) and Red Ruffing (231).
"It's a shame we've got to get old and you can't just continue to play this game," Pettitte said. "But just how blessed and fortunate I am, to be able to play a game and get paid to do it, it's just been incredible."
Bryan Hoch is a reporter for MLB.com. Follow him on Twitter @bryanhoch and read his MLBlog, Bombers Beat. This story was not subject to the approval of Major League Baseball or its clubs.