Braves fall behind Cards in race for home field
Braves fall behind Cards in race for home field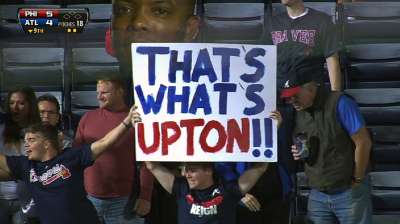 ATLANTA -- A sloppy loss in the penultimate game of the regular season has taken the Braves' postseason travel plans out of their control.
Justin Upton's three-run home run highlighted a frantic ninth-inning rally that came up one run short in a 5-4 loss to the Phillies on Saturday night, but the late offensive surge only underscored the significance of the team's three errors in the middle innings and the ineffectiveness of the Atlanta bullpen.
The Braves were not able to keep pace with the Cardinals for the National League's best record after St. Louis finished off a 6-2 victory over the Cubs earlier in the day. Atlanta needs a win on Sunday and a St. Louis loss to secure home-field advantage throughout the NL playoffs and a Division Series matchup against the winner of the NL Wild Card Game between the Pirates and Reds.
Otherwise, the Braves will prepare for a best-of-five series against the NL West-champion Dodgers beginning Thursday in Atlanta.
Elliot Johnson and Jose Constanza reached on back-to-back infield singles with one out in the ninth to spark the rally off Phillies closer Jonathan Papelbon. Upton took a hanging slider out to left-center for his 27th home run of the season that capped a 4-for-5 night and cut the deficit to 5-4.
"I'd seen the ball pretty well, and I'd gotten some good pitches to hit and didn't miss them," Upton said. "So, having that opportunity in the ninth, I was looking forward to it, and I got a good pitch to hit."
Freddie Freeman followed with a single to right field and Evan Gattis worked a walk to put the winning run on base, but Chris Johnson was not able to leg out an infield single after shortstop Jimmy Rollins' long throw from the edge of the outfield grass beat his headfirst slide.
"Heck of a play to end the game," Phillies manager Ryne Sandberg said. "I first thought he'd do a fake throw to third base as if that was the only play, because it was right in front of us. But then I saw him go to first and it was a perfect one-hop throw."
Johnson's frustration boiled over after the loss, and he tossed his helmet upon returning to the dugout, prompting an altercation after the helmet hit first-base coach Terry Pendleton. Johnson has been ejected twice in his Major League career for spiking his helmet, most recently on Aug. 11 after he disagreed with a call by home-plate umpire Jim Joyce.
The Braves' defensive miscues helped the Phillies pad an early lead with two add-on runs in the seventh off reliever Jordan Walden, who was making his first appearance since Sept. 17 after dealing with nagging groin soreness. Cesar Hernandez led off with a single, took second on a wild pitch and was initially held at third when Rollins roped a single into left field, but Gattis bobbled the ball, allowing Hernandez to trot home without a throw.
Soon after, an errant pickoff attempt sailed wide of first base and up the right-field line, allowing Rollins to take third on the throwing error and later score easily when Domonic Brown took a pitch from lefty Scott Downs into right field.
Downs was the first of two relievers who were not able to retire the batter they were brought in to face. Rookie left-hander Alex Wood was brought in to handle Chase Utley with two outs after Anthony Varvaro loaded the bases in the eighth inning, but Utley pushed an infield single to the left side that allowed the decisive run to score.
"We just gave them extra outs and it got us behind the eight ball a little bit," manager Fredi Gonzalez said. "But again, we had situations with Downs with Brown and [Wood] with Utley. They didn't hit the ball hard, but they found the hole and they got runs out of it."
The Phillies needed only two pitches from Atlanta starter Mike Minor on Saturday to match the two hits that took nine innings to collect the previous night off Kris Medlen and Craig Kimbrel. Hernandez bunted for the first of his four hits and moved to third when Rollins ripped the next pitch down the left-field line for a stand-up double.
After two quick outs, Minor walked Brown to load the bases and Cameron Rupp was able to power a fastball in on his hands to center field for a two-run single. Minor has allowed at least one run in the first inning of his last four starts with a 4.32 ERA over that span after scattering five hits over six frames on Saturday. However, the left-hander was able to curb his problems surrendering the long ball, keeping the Phillies in the yard after a stretch of seven homers allowed in his past five starts.
"I threw a lot of balls low, rather than up in the zone," Minor said. "It got me behind in some counts, but it was better than letting the ball tail in to some barrels."
The Braves put at least one runner on base in every inning, but they were not able to string together an offensive outburst until the ninth.
Back-to-back hits by Jason Heyward and Upton in the bottom of the first put runners on the corners with no outs, but Freeman's sacrifice fly to center pushed across the only run of the frame to cut the early Philadelphia lead in half. The sac fly drove in Freeman's 108th RBI this season, the third-highest total in the league behind Arizona's Paul Goldschmidt and Cincinnati's Jay Bruce.
"I think we put ourselves in situations all game, runners in scoring position," Upton said. "We can't expect Freddie to drive in every run, that's too much pressure to put on him. We put ourselves in position to score runs, and we didn't. They put up five runs, and our late-inning comeback wasn't enough."
The Braves last scored five runs in the ninth inning on Sept. 2, 2012, as part of a rally capped off by Chipper Jones' walk-off three-run home run off Papelbon. After their late-inning magic ran out short of duplicating that feat, the NL East champions will be forced to watch and wait on Sunday afternoon to learn the identity of their postseason opponent.
"We still have to win a ballgame, come back here tomorrow and win and we see what happens," Upton said. "It's out of our control. We had control of it tonight and didn't do it, so tomorrow it's in their [the Cardinals] hands, but we still have to do what we have to do."
Eric Single is an associate reporter for MLB.com. This story was not subject to the approval of Major League Baseball or its clubs.