Marlins believe Hechavarria has bright future ahead
Marlins believe Hechavarria has bright future ahead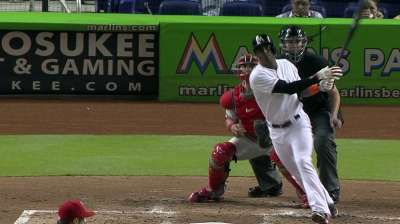 MIAMI -- In Adeiny Hechavarria, the Marlins believe they have a rising talent at shortstop.
To baseball's statistical world, the 24-year-old has plenty of work to do.
For instance, according to FanGraphs.com, Hechavarria ranks last out of 140 qualified players in the WAR (Wins Above Replacement) category.
Hechavarria's WAR is -1.8, says the web site, which takes a number of statistical factors into consideration. The Miami shortstop is batting .229 with three homers and 42 RBIs.
When informed about the ranking, Marlins manager Mike Redmond defended his athletic shortstop, who has been a standout defensively.
"I haven't seen that," Redmond said. "I know what he means to our team, both defensively, and even offensively. This guy has been a huge part of our defense. I honestly believe, he's one of the top couple of shortstops in the league, defensively.
"I know his offense continues to be a work in progress. But he's definitely come a long way offensively, especially from the beginning of the season until now."
The Marlins acquired from Hechavarria from the Blue Jays last November, and he's been the most durable player on the team.
"I never get too caught in stats," Redmond said. "I know when it's all said and done, Hech is going to be an All-Star shortstop."
Joe Frisaro is a reporter for MLB.com. He writes a blog, called The Fish Pond. Follow him on Twitter Share This