Stanton lifts Marlins with walk-off single in 10th
Stanton lifts Marlins with walk-off single in 10th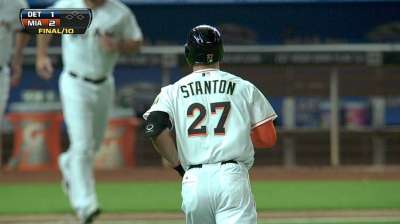 MIAMI -- Against one of the best pitchers in the American League, Nathan Eovaldi did his part to keep his team close. Eventually, his teammates picked him up in walk-off fashion.
Giancarlo Stanton blistered an RBI single to center in the 10th inning that gave the Marlins a 2-1 win over the Tigers on Saturday night in front of 28,750 at Marlins Park.
"These guys have battled all year, they just haven't given up," Marlins manager Mike Redmond said. "Tonight was another one of those games where we didn't have a lot going. We had a couple of hits going into the late, late stages of that game. The guys put together some great at-bats."
Miami celebrated its sixth walk-off win of the season, and first since July 13 against the Nationals.
"I did that last year, but that was the first this year," Stanton said of his walk-off heroics. "We'd only had five. There hadn't been one in a while."
The Marlins have now won two straight home series, and they improved to 7-13 in extra innings. They have a chance to complete a sweep in the season finale on Sunday.
Justin Ruggiano walked to open the 10th, and he advanced to second on Juan Pierre's pinch-hit, sacrifice bunt. A frightening moment came when Reed plunked Donovan Solano on the back of helmet with a full-count fastball, clocked at 95 mph.
He was tended to by team trainer Sean Cunningham, and he was lifted for pinch-runner Placido Polanco.
"I feel normal. I don't feel [dizzy]," Solano said. "I feel it a bit, but it's not too scary. I feel good. I know I was hit on the head, but I feel OK."
Reed's command remained off as he walked Christian Yelich, loading the bases for Stanton, who delivered his 10th game-winning RBI.
Limited to two hits entering the ninth inning, the Marlins pulled even on Ed Lucas' two-out, RBI single.
"It's kind of a cheery on top to the last couple of days," Lucas said. "Obviously, it's a good experience to get a hit with two-outs in the ninth to help us win a ballgame. What happened yesterday was a lot more meaningful for me."
Yelich laced a one-out single to center off closer Joaquin Benoit, and Stanton walked.
Lucas, a day after his wife gave birth to a baby boy, delivered the tying single to center. Miami had the bases loaded for Rob Brantly, the former Tiger, but he tapped to second, ending the rally.
"Nothing was working," Benoit said. "Ball was all over the place. I couldn't find the strike zone. It was one of those days. You try to make the adjustment, but nothing really works."
The game matched two hard-throwing right-handers.
Anibal Sanchez, the former Marlin, wrapped up the American League ERA crown by tossing five scoreless innings while striking out eight. Miami managed just two hits off him.
The stellar performance by Sanchez lowered his ERA to 2.57, which is tops in the American League.
"I'm working on a lot of things," Sanchez said. "I'm happy for the results that I finished, especially the ERA. I need to continue to play. Hopefully, I can get more than that next year."
Eovaldi ended his season on a high note, giving up one run in six innings with five strikeouts.
"I'm happy with the outing," Eovaldi said. "I feel I finished on a good note this year. I felt like, for the most part, I didn't throw the ball too well. They're a great hitting team. I made my pitches when I needed to get out of trouble."
In the fourth inning, the Tigers scored their lone run off Eovaldi, and it came on Alex Avila's sacrifice fly.
In the fifth inning, Eovaldi escaped trouble and avoided a potentially scary moment. With two on and two outs, Fielder ripped a liner right at Eovaldi, who made a self-defense catch to get out of the inning.
"I was just trying to get out of the way," Eovaldi said. "It went right in my glove, into my pocket. I avoided possibly getting injured. I just caught it."
As for his performance, Eovaldi was pretty much pleased to head into the offseason with a positive.
"Unfortunately, in that fourth inning, leadoff walk to a great hitting team," he said. "It's like one of those rules in baseball -- you don't walk the leadoff guy. It's frustrating. But I battled through it tonight. It was a good win for us."
Joe Frisaro is a reporter for MLB.com. He writes a blog, called The Fish Pond. Follow him on Twitter @JoeFrisaro. This story was not subject to the approval of Major League Baseball or its clubs.