Gregerson leads emerging Padres bullpen
Gregerson leads emerging Padres bullpen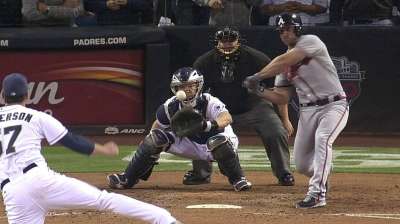 SAN FRANCISCO -- Luke Gregerson has been something of an ironman in San Diego's bullpen the past few seasons. Gregerson has averaged more than 72 outings per year since joining the club in 2009, including 72 in 2013 after pitching a scoreless eighth inning in Saturday's 9-3 Padres victory over the Giants.
The Padres have quietly assembled a quality bullpen that features a good mix of youth and experience, and Black said much of that success has to do with Gregerson.
"He's a guy that I've placed a lot of trust in," Black said, "just as far as leadership and doing the right things out in the bullpen to get that mindset right for that group."
Looking ahead to 2014, Black said he's encouraged by the team's bullpen, which features three relievers with sub-3.00 ERAs -- Gregerson (2.76), Nick Vincent (2.15) and Huston Street (2.38).
"The work in the second half has been encouraging for next year," Black said. "Couple that with some of the arms that we have coming, we're excited about the future of some our younger pitchers."
Alex Espinoza is a contributor to MLB.com. This story was not subject to the approval of Major League Baseball or its clubs.