Anibal dominates in last start, but 'pen falters
Anibal dominates in last start, but 'pen falters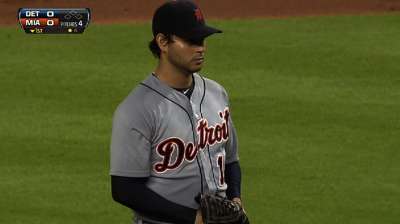 MIAMI -- Anibal Sanchez earned the American League ERA title with five shutout innings. The Tigers set the Major League single-season strikeouts record and tied the Major League record for most 200-strikeout pitchers in a season. They got their relievers into situations they wanted, from Darin Downs and Al Alburquerque against left-handed hitters to Drew Smyly facing a right-handed batter.
"We got a lot accomplished tonight," manager Jim Leyland said. "Basically, we did everything but get the win."
Oh yeah, that part.
After going 22-for-22 in save chances for the season, Joaquin Benoit suffered his second blown save in a week, again giving up a game-tying RBI single with two outs in the ninth. Giancarlo Stanton's bases-loaded single in the 10th completed the Miami rally for a 2-1 Tigers loss Saturday night at Marlins Park.
The Tigers' second consecutive loss to a 100-loss Marlins team has no bearing on their standing for the postseason. Their Division Series matchup with Oakland was already set by the time their game started thanks to an A's loss in Seattle. Saturday was more about preparing players for that series than about anything in the present.
In Benoit's case, it's a conundrum. Better to have him battle his command now than next week, but the look of frustration on Benoit's face made it clear he'd rather not have it at all.
"It's always going to be a bad thing," Benoit said. "It's just that if it's going to happen, better to happen now and not in the postseason. It's better to get it over with, but it's still not a good thing to go through."
The same could be said for an offense that has scored three runs through two games in Miami. In that case, however, the late-game substitutions are shortening games for the regulars. In some ways, the games have had a Spring Training feel to that.
That was not the case for Sanchez, who completed his first full season as a Tiger by blanking his old teammates on eight strikeouts over five innings.
The homecoming for Sanchez, who spent 6 1/2 seasons with the Marlins before coming to Detroit last July, was a fitting close for his regular season. He was a late-season pickup who helped the Tigers reach the World Series, then signed a five-year extension as a free agent.
The 2013 season saw him post some of the best statistics of his career, realizing the potential many saw in him as a Marlin. Though his Marlins teammates knew what to expect from him, it still didn't help.
Sanchez entered the night with an AL-best 2.64 ERA, barely ahead of Oakland's Bartolo Colon (2.65) and Seattle's Hisashi Iwakuma (2.66), both of whom are done with their regular seasons. As long as Sanchez didn't give up multiple runs, he'd win his first league title in any of the three pitching Triple Crown categories. He finishes with a 2.57 ERA.
"I think I'm working for a lot of things," Sanchez said. "I'm happy for the results that I finished, especially the ERA. I need to continue to play. Hopefully, I can get more than that next year."
The way he pitched, it was difficult enough for the Marlins just to get a runner on base. He retired the side in order the first time through Miami's lineup, putting together the makings of a perfect-game bid until Chris Coghlan singled leading off the fourth. His stolen base and a Christian Yelich infield single created a challenge for Sanchez, facing Stanton with runners at first and second.
Sanchez overpowered Stanton on three fastballs, the last of which Stanton hit up the middle to start an inning-ending double play. Sanchez came back out for the fifth and struck out the side in order to complete his outing.
"He looked good," Stanton said. "He was pin-pointing it, changing eye levels and moving the ball in and out. He was good."
Sanchez became the third Tigers pitcher with 200 strikeouts this season. Only the 1969 Astros and 1967 Twins could boast that kind of 200-strikeout trio, according to research on baseball-reference.com. Detroit, meanwhile, broke out of a tie with the 2003 Cubs for the most strikeouts by a pitching staff in Major League history.
"We got the guy that won the ERA title and we got a guy that's got 21 wins and hopefully the Cy Young winner," Leyland said. "That means you've got pretty good pitching."
The Tigers offense didn't give Sanchez much run support, but Alex Avila's fourth-inning sacrifice fly had him in line for his second 1-0 win in four starts. Detroit's bullpen held it until the ninth, when Yelich's one-out single and Stanton's walk gave Miami's offense some life.
Logan Morrison's drive went deep to right field before it died on the warning track, leaving Benoit to face Lucas with a chance to close it. Lucas lined a changeup through the middle to send Yelich home with the tying run.
"Nothing was working," Benoit said. "Ball was all over the place. I couldn't find the strike zone. It was one of those days. You try to make the adjustment, but nothing really works."
Benoit used 31 pitches in the ninth. Evan Reed gave up two walks and a hit-by-pitch to load the bases in the 10th, and got only one out on a Juan Pierre pinch-hit sacrifice bunt. Stanton's liner soared over Ramon Santiago's outstretched glove at short to end it.
Jason Beck is a reporter for MLB.com. Read Beck's Blog and follow him on Twitter @beckjason. This story was not subject to the approval of Major League Baseball or its clubs.