Cook regains form, fixes command issues
Cook regains form, fixes command issues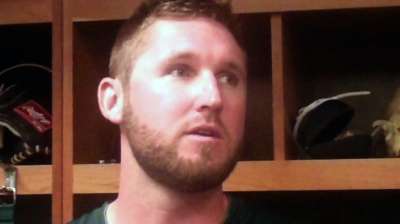 SEATTLE -- A's fans can rest easy know that Ryan Cook is on the rebound. Cook was an essential part of Oakland's bullpen for much of the year, but he has struggled in September, seeing his ERA balloon from 2.12 to 2.69 -- its highest mark since April 6.
But in his last two appearances, the 24-year-old righty has pitched well, giving up just one hit while striking out two over 1 2/3 innings. While the young reliever didn't make any significant mechanical adjustments, he's fixed the command issues that plagued him earlier in the month.
"Sometimes it's just something mentally to get you going in the right direction, the times that you do get out of whack and you have to make some adjustments," manager Bob Melvin said. "Sometimes it's just as big for you mentally as it is physically, and it's all about him throwing the ball over the plate. When he throws the ball over the plate it's really good, so we've seen that the last couple times out."
With the playoffs just around the corner, Cook's resurgence couldn't have come a moment too soon. Still, the 2012 All-Star said he didn't feel a sense of urgency to regain his old form with the postseason fast approaching.
"I feel like I know who I am as a pitcher and it was just about getting back to that and keeping that mentality," Cook said.
Jacob Thorpe is an associate reporter for MLB.com. This story was not subject to the approval of Major League Baseball or its clubs.