Cespedes sits Saturday, listed as day to day
Cespedes sits Saturday, listed as day to day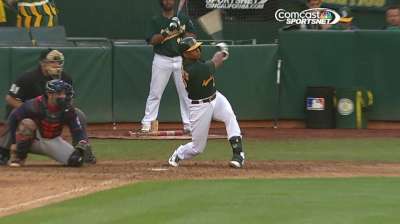 SEATTLE -- Yoenis Cespedes' return to the A's outfield was short-lived, as the Cuban slugger exited Friday's 8-2 victory over the Mariners in the fourth inning with shoulder stiffness.
Cespedes didn't play in Saturday's game, and Oakland manager Bob Melvin said that the outfielder is day to day.
"I won't know until we figure out how severe it is, so, I mean, he does have a dramatic swing, there's a lot going on," Melvin said. "He creates a lot of torque, that's just who he is, but there is a concern that he's had a few days off, then we got him back in the field and had to take him out. But hopefully it's something that's manageable here pretty soon."
Without Cespedes, the A's are missing one of their hottest players. Cespedes is batting .314 in September, and he is second in the American League with 19 RBIs in the month and tied for third with six home runs.
Jacob Thorpe is an associate reporter for MLB.com. This story was not subject to the approval of Major League Baseball or its clubs.