Waino's 19th win helps fuel home-field chase
Waino's 19th win helps fuel home-field chase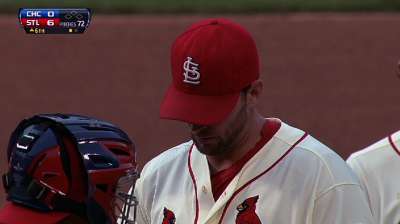 ST. LOUIS -- With the National League Central title already in the books, the Cardinals checked off a few personal accomplishments on Saturday.
The 6-2 win over the Cubs kept the club within reach of the NL's best record as several Cardinals reached career bests, milestones and league-leading marks.
St. Louis (96-65) needs a win or a Braves loss on Sunday to earn home-field advantage throughout the NL playoffs and a chance to face the winner of the Wild Card Game between the Reds and Pirates instead of playing the West champion Dodgers.
The Cards hold a one-game lead over the Braves, who dropped a 5-4 decision to the Phillies on Saturday, for the No. 1 seed. In case of a tie, Atlanta would earn the top seed by virtue of winning the season series.
"Keep building the momentum," Matt Adams said. "We're playing great baseball right now, so if we keep that going we're going to have a lot of confidence going into [the postseason]."
In a tuneup for Thursday's start in the NL Division Series opener, Adam Wainwright breezed through 5 1/3 scoreless innings with 72 pitches, allowing two hits and a walk while fanning five as he beat the Cubs for his 19th victory -- matching Washington's Jordan Zimmermann for the most victories in the NL.
"We're still fighting for that No. 1 seed and home-field advantage so we want to win the game, but really I wanted to stay sharp," Wainwright said. "Ten days off is too much between starts. It's good to get out there and get some good work in."
The biggest threat Wainwright faced all afternoon came in the fourth, when he walked a batter and surrendered a single. He then stranded the runners on the corners with a strikeout of Donnie Murphy.
Wainwright concluded his regular-season campaign by leading the NL in innings with a career-high 241 2/3. He also set career bests in strikeouts (219), strikeout-to-walk ratio (6.26) and walks per nine innings (1.4), as well as lowering his season ERA from 3.01 to 2.94 with the outing.
"At the end of the year if you lead the league in innings, most of the time all the other numbers fall in place," Wainwright said. "It's a good lesson. You go out there, you keep your team in the game, [go] deep into the innings, save your bullpen, give yourself a chance and your team a chance to win. That's what a starting pitcher's job is."
Cardinals manager Mike Matheny sent Wainwright back out to face the first batter in the sixth, allowing the Busch Stadium crowd of 42,520 the opportunity to show its appreciation for the ace with a standing ovation.
"We definitely respect the kind of season that he's had, we'd like for him to get a chance and for the fans to have a chance to express what they feel about that," Matheny said. "You have to tiptoe around how you do that. We want to make sure we respect the other club. Him going out there and getting the one more batter and he was still within that range we hoped he'd be in, and it worked out fine."
Matt Holliday hit a two-run first-inning homer, his 22nd, pushing his average to .300 for the first time all season. He drew a walk in the third inning and was replaced by Shane Robinson with his average still intact.
Holliday has rebounded from batting .268 in the first half to hit .344 with eight homers and 45 RBIs since coming off the disabled list on July 27. It's possible the Cardinals will sit Holliday for Sunday's series finale so the left fielder can hold on to his .300 average, a decision Matheny said would be made on Sunday.
"He's worked real hard to get there," Matheny said. "That probably means more to us than it does to him, but he also understands that we're acknowledging what he's been able to do."
The Cardinals' offense continued to roll against Cubs starter Edwin Jackson, plating four more runs in the third with three walks, a pair of run-scoring doubles from Yadier Molina and Pete Kozma and an RBI single from Wainwright. Jackson allowed six runs, and exited after 2 2/3 innings due to mild right lat discomfort.
Molina's 2-for-2, two-RBI day gave him a career-best 161 hits and extended his career-high RBIs total to 80.
Among the only two St. Louis starters to not record a hit was Matt Carpenter, who is one shy of becoming the third Cardinals player to reach 200 hits since 1979.
The early 6-0 lead allowed Matheny to rest his starters, with only Matt Adams and Kozma playing beyond the sixth. While Wainwright tune-up went exactly as planned, the idea to send ousted closer Edward Mujica to the mound in a low-pressure situation to rebuild his confidence didn't.
Relievers Sam Freeman and John Axford combined for 2 2/3 scoreless innings before Mujica served up a homer to Anthony Rizzo in the ninth to spoil the bid for back-to-back shutouts in the series. Mujica retired just one of his four batters, also allowing a pair of doubles. Randy Choate and Seth Maness relieved Mujica, and Maness induced a double play for his first Major League save.
General manager John Mozeliak said before the game that Mujica would likely be on the postseason roster.
"It was hard. It was not what we were wanting to do tonight, but we'll have to make adjustments," Matheny said of pulling Mujica. "Fortunately, we were still able to have Seth come in, and Choate, and get us out of that inning."
Chad Thornburg is an associate reporter for MLB.com. This story was not subject to the approval of Major League Baseball or its clubs.