Young, Brewers' miscues lead Mets to win in finale
Young, Brewers' miscues lead Mets to win in finale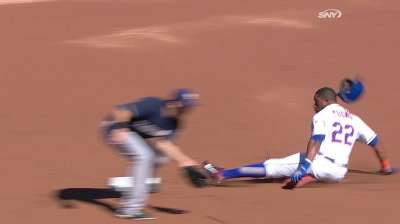 NEW YORK -- In the early-morning hours before Sunday's season finale at Citi Field, Mets manager Terry Collins sat with his coaches and discussed all that happened in 2013 -- some of it encouraging, much of it disappointing.
"We talked about the what-ifs of the year," Collins said. "You can't do that. You've got to deal with reality. And that was, 'Hey, we competed as best as we could.'"
As if to punctuate that point, the Mets went out and competed tirelessly hours later, stealing a 3-2 win from the Brewers thanks to a series of defensive miscues in the eighth. Two errors and an ill-advised fielder's choice allowed the Mets to tie the game, before Eric Young, Jr.'s swinging bunt scored the go-ahead run.
"My gosh," Brewers manager Ron Roenicke said. "That's not the way you want to end the season. We gave it away. Every single run, we gave away."
Somewhat limited due to the Mets' desire to have him finish on a strong note, starting pitcher Jon Niese didn't allow a hit until Jeff Bianchi's leadoff single in the fourth. That began a string of three straight singles for the Brewers, who might have done more serious damage had Young and Juan Lagares not thrown runners out at the plate. As it was, Sean Halton's RBI groundout and Logan Schafer's run-scoring single gave the Brewers a 2-1 lead.
It was a day of individual achievements for both Mets outfielders -- Young swiped two bags in the first inning to win the National League stolen-base title (46), and scored on David Wright's sacrifice fly -- while Lagares' outfield assist extended his franchise rookie record to 15.
Still, the Mets seemed destined for another loss until the eighth, when Lagares reached on a throwing error to open the inning. Catcher Jonathan Lucroy's subsequent error on Juan Centeno's bunt allowed the batter to reach base and Lagares to score, before Young's groundout scored the go-ahead run.
The Mets finished 74-88, matching their record from a year ago. They have not enjoyed a winning season since 2008, though their incremental improvement -- third place this year, instead of fourth -- encouraged them.
"No matter what the circumstances are, winning's fun," Wright said. "I know things didn't go the way we would have liked them to go this year, but to end on a positive note with such a bright future and a bright outlook for this organization is important. Throughout this year, you can take away a ton of negatives. There have been times when we've played poorly individually, we've played poorly as a team. But with the emergence of some of these younger players, especially the pitchers, it tells fans -- it tells me -- that things are going to be just fine sooner rather than later."
In that sense, the Mets feel they accomplished plenty in 2013, which included the debuts of top prospects Zack Wheeler and Travis d'Arnaud, and saw them battle despite significant injuries to Matt Harvey, Wright, Niese and others.
"We went into Spring Training as we have the last couple of years, with people saying, 'You're going to lose 100 games. You're not going to be very good,'" Collins said. "The first day of Spring Training, the one thing you tell those guys is, 'That's not true. But we've got to go prove to people that we're better than they think we are.' Are we happy with where we are? No, not even close, because we should have won more games. We were in position to win more games. We didn't do it. So we've got to figure out a way to be better."
Minutes after winning Sunday's game, as others around baseball were putting the finishing touches on their playoff berths, Collins addressed his team at Citi Field. Next year at this time, Collins said he doesn't want to see clubhouse attendants stretching packaging tape across large cardboard boxes, shipping their contents to California, Venezuela, Texas -- wherever home may be.
Next year, Collins said, he wants to be lining up his pitching for Game 1 of the postseason -- a goal he no longer considers unrealistic.
"I don't know what it's going to look like," Collins said. "But we've kind of set our sights, because of some of our young players, on the future. And we see some bright, bright things happening."
Anthony DiComo is a reporter for MLB.com. Follow him on Twitter @AnthonyDicomo. This story was not subject to the approval of Major League Baseball or its clubs.