Defensive miscues cost Brewers in loss to Mets
Defensive miscues cost Brewers in loss to Mets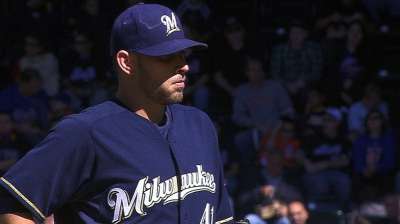 NEW YORK -- A trying Brewers season came to a fittingly frustrating end on Sunday.
So frustrating, that manager Ron Roenicke preferred to pretend it didn't happen.
"Do we have to talk about this one?" he asked as reporters filed into his office one last time.
Roenicke, still wearing a uniform about to be packed away for the winter, paused and shook his head.
"My gosh," he said. "That's not the way you want to end the season."
Marco Estrada pitched seven strong innings to finish with a flourish and Carlos Gomez became the first Brewers player to reach 20 home runs and 40 stolen bases in the same season, but a pair of errors during an ugly eighth inning gave the Mets the two runs they needed to beat Milwaukee, 3-2, at Citi Field in the 2013 finale.
The Brewers, whose hopes were long ago sunk with a 6-22 record in May, missed a chance to finish with a four-game sweep of the Mets and instead went 74-88 in Roenicke's third year at the helm -- the same record as the Mets.
A 75-87 season would have felt better, and the Brewers were positioned for it.
"We gave it away," Roenicke said. "Every single run, we gave away."
It started in the first inning, as Eric Young Jr. blooped a single, stole second and third base to win the NL's stolen base crown (with 46) over Milwaukee's Jean Segura (44), then scored on a shallow sacrifice fly. Roenicke said right fielder Norichika Aoki was too slow throwing home, and catcher Jonathan Lucroy "didn't really hang in there to make a good tag."
The Brewers made more mistakes in the decisive eighth, when reliever Brandon Kintzler inherited a 2-1 lead from Estrada. Kintzler found trouble when shortstop Jeff Bianchi's throw on a routine ground ball drew first baseman Sean Halton off the bag. Mets catcher Juan Centeno followed with a sacrifice bunt to the right side of the infield, and, with Halton "crashing" on the play, second baseman Scooter Gennett was late covering first base, then got tied up with umpire CB Bucknor. Lucroy's throw sailed down the first-base line for a run-scoring error.
Mets pinch-hitter Wilfredo Tovar also bunted, and Halton unwisely threw to third base, much too late to retire the lead runner. After Josh Satin's fly ball to shallow right field finally gave the Brewers an out in the inning, Young gave the Mets the lead with a soft grounder to the pitcher's mound. Kintzler's only choice was to throw to first while the go-ahead run scored.
"It's indicative of the way we've gone about things -- battling, battling, battling and battling again today to come up with a win," said Mets manager Terry Collins. "You salute everybody in that room. I was going to take David [Wright] out, [Daniel Murphy] out, in the eighth. A couple guys got on. I said, 'It isn't going to happen today, because we need this win.' They said, 'Skip, we'll trade it for a win.' I'm very proud of them. It's a good way to end the season."
Roenicke was much more eager to discuss Estrada, the latest Brewers starter to finish strong. After Young's trip around the bases in the first, Estrada allowed only one more hit in seven innings, with no walks and eight strikeouts.
Estrada missed two months in the middle of the season with hamstring and back issues, but was 3-0 with a 2.15 ERA in his final nine starts, including four quality starts in September.
"I needed it," said Estrada, who had a 5.32 ERA before his DL stint. "Obviously, the first half wasn't the greatest. I thought I threw some good games, but I also had some really bad ones. … To come back and stay healthy and finish strong, it means the world. I hope I showed them enough."
Even before Sunday's finale, it sounded like Estrada had done exactly that. Roenicke indicated he had some combination of Kyle Lohse, Yovani Gallardo, Wily Peralta and Estrada penciled in as the top four starters entering next season, pending roster moves over the winter.
"I think the way [Estrada] has been throwing, yeah," Roenicke said. "We're going to certainly go into Spring Training with the thought that he can do it."
Estrada's quality finale was part of a team-wide trend. Marred by May, Brewers starting pitchers were last in the NL with a 4.86 ERA at the All-Star break, but ranked third (behind the postseason-bound Dodgers and Braves) with a 3.36 ERA in the second half, including 2.94 in September.
It was the reverse of May, when Brewers starters pitched to a Major League-worst 6.72 ERA, and struggled to a man.
"All of them finished strong, which is very encouraging going into next year," Roenicke said. "They should have a good feeling coming into Spring Training when you know you finish up that well."
The Brewers were 68-66 outside of May, and 33-32 after Ryan Braun was suspended in July.
Players scattered to New York's various airports immediately after the final out but will be back together at Maryvale Baseball Park on Saturday, Feb. 15, 2014, when pitchers and catchers report for Spring Training. The first full-squad workout is one week later.
"It's no secret we have a good team," said Gomez, who stole his 40th base in the second inning. "When you have a slow start, it's hard and complicated to take off again. We had one month -- May -- kill us. … When we have everybody together next year, we know we can compete and be one of the best organizations."
Adam McCalvy is a reporter for MLB.com. Read his blog, Brew Beat, and follow him on Twitter at @AdamMcCalvy. This story was not subject to the approval of Major League Baseball or its clubs.