Veteran reliever Oliver prepares to call it a career
Veteran reliever Oliver prepares to call it a career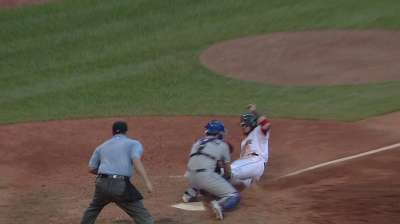 TORONTO -- Darren Oliver is just hours away from making his final pitch in the Major Leagues, and the veteran left-hander is looking forward to hanging up the cleats for a final time.
After 20 seasons, more than 1,900 innings and two previous times thinking he had thrown his last pitch in the big leagues, the 42-year-old is ready to walk away from the game.
"Yeah, I really am," Oliver said. "I wish I could play baseball forever, but unfortunately, you know we can't. It's got to come to an end eventually."
While his career as a baseball player enters its final stage, the southpaw is looking forward to the opportunity to spend time with his kids and watch them grow.
"When you're playing baseball, you don't get to see them that much," Oliver said. "Actually, they're a little bit older now, so I got my hands full. But I still do the best I can."
Although Oliver chooses to save the bulk of his reminiscing for after his career comes to a close, he did mention that the World Series and hitting in the National League were some of his more memorable moments, and that he'll miss the camaraderie in the clubhouse and all the friends he's made over the years.
"It's a lot fun. We have a good time," Oliver said. "It's like when you go home in the offseason, all the things that we say in here, the little sayings that we have, your friends don't understand it, but they understand it, because you're with them every day."
There's still some discussion on how Oliver will throw his last pitch.
Despite starting only one game since 2006, Oliver -- who began his career as a starter and made 229 starts -- is hoping to make his final appearance in the Majors as a starter. But with the Rays still jostling for a postseason position in the season's final game, it's more likely Oliver will come in as a reliever.
"We don't know what's going to happen yet, but we could [start him] -- it's a possibility," Blue Jays manager John Gibbons said. "We just haven't decided yet. We've talked about doing it, we just haven't come to a conclusion yet."
Regardless of how that final outing goes, Oliver looks back fondly on his time in the big leagues.
"It was fun," Oliver said of his 20-year ride in the Majors. "It definitely lasted a little bit longer than I ever thought it would, so I feel blessed for that part. I never thought I was going to play that long. So I definitely say my prayers at night for that. It was lot of fun. I definitely don't have any regrets. I can definitely look in the mirror and be happy with what I'm seeing in return."
Evan Peaslee is an associate reporter for MLB.com. This story was not subject to the approval of Major League Baseball or its clubs.