Baker brings perspective to offensive struggles
Baker brings perspective to offensive struggles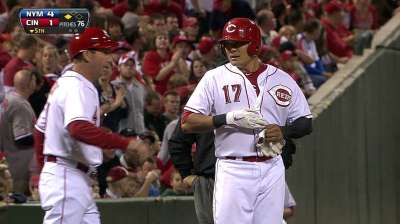 CINCINNATI -- Like any Reds fan, Friday night's 4-1 loss to the Pirates was agonizing for manager Dusty Baker. In a game in which Baker said Cincinnati gave away runs, the Reds had just one at-bat with runners in scoring position, and it ended with a Homer Bailey groundout.
The offense has been in a funk throughout the homestand, scoring just six runs en route to a 1-3 record. Although Baker has been as frustrated as anybody, he tried to bring some perspective to the situation on Saturday.
"I've said it 100 times. It's not easy to sit over there and watch your team struggle to hit," Baker said. "But they say hitting a baseball is the most difficult thing in sports to do. And then they say that good pitching beat good hitting. And then when you don't hit, they ask why you're not hitting. That doesn't really make any sense if you think about those first two things."
Whether it's been the result of good pitching or not, the Reds' bats have gone relatively cold since winning five of six to close out their recent road trip before playing their final six games of the season at Great American Ball Park.
In the first four games of the homestand, Ryan Hanigan (3-for-7) and Shin-Soo Choo (6-for-16) were the only Reds with more than two hits. The offensive woes have plagued Joey Votto (2-for-12), Brandon Phillips (2-for-15) and Jay Bruce (1-for-15), who along witch Choo have been the most productive Cincinnati hitters this season in terms of average.
Hitting, Baker said, is all about adjustments, and after 160 games -- including 17 against the Pirates -- entering Saturday there has been plenty of chances for adjusting back and forth. Baker also added that the difference between a hit and an out can often be a matter of inches if guys are hitting balls right at people.
In an effort to get things rolling, Baker moved Ryan Ludwick into the two-hole on Friday, and he was there again for Saturday's game. Ultimately, though, Baker said now is not the time to be making wholesale changes in any regard, and it's key to remain confident the recent struggles will end before it's too late.
"You got to do the things that got you to this situation," Baker said, "because you know you're going to go through times when you're up and down -- especially offensively. ... There's a lot of factors in there."
Mark Sheldon is a reporter for MLB.com. Read his blog, Mark My Word, and follow him on Twitter @m_sheldon. Jeremy Warnemuende is an associate reporter for MLB.com. This story was not subject to the approval of Major League Baseball or its clubs.