Crew chief Barrett: The baseballs were rubbed up
Crew chief Barrett: The baseballs were rubbed up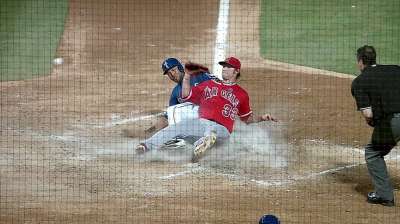 ARLINGTON -- Every night, the umpires' room attendant at Rangers Ballpark rubs up numerous baseballs with special mud and piles them into a bag. A ball boy then scoops it up and brings the baseballs to the home-plate umpire, who rifles through the pile and handpicks the ones he'll use for that day's game.
Crew chief Ted Barrett said Friday was no different.
C.J. Wilson was suspicious during that night's 5-3 loss because, in his mind, an inordinate amount of baseballs at his former stadium were not rubbed up. Manager Mike Scioscia confirmed that some of the balls looked like they came right out of the box and pitching coach Mike Butcher said many times it felt like Wilson was throwing "a cue ball."
But Barrett said Saturday morning that all the baseballs were rubbed up.
"They were all rubbed with mud," he said. "Mike DiMuro was working home plate [and is at third base Saturday morning]. Each ball he got had mud on it. I guess they weren't rubbed to C.J.'s liking, but they were all rubbed.
"No balls came out of the wrapper. Every ball had mud on it."
Asked if some balls just didn't have enough mud on them, Barrett said: "Yeah, that's possible. But they definitely had mud on them. None of them came out of the box."
Wilson managed to pitch six innings of three-run ball, but struggled with his command all night -- particularly in a two-run third inning that saw him uncork three wild pitches, hit two batters and walk another. Afterwards, Wilson didn't go so far as to accuse the Rangers of not rubbing up the balls before the game to purposely throw him off, but he didn't really dismiss the notion, either. The veteran left-hander said only "one out of every four" was rubbed up and "balls were kind of squirting around."
"Are you going to call it a coincidence?" Wilson said. "It's not a coincidence. Let's be honest."
Scioscia said some of the baseballs "still had packing dust on them," but the Angels' skipper believes the Rangers "were using the same ones" and simply said Wilson was "just off all night."
As of an hour before the 11 a.m. CT first pitch, Barrett hadn't had a chance to speak with Scioscia about the previous night's baseballs.
"Some pitchers are more finicky -- they like the darker balls," Barrett said. "Some pitchers, they don't like a slick ball. But the important thing is the balls came out of the same bag, both pitchers were using the same balls. It's the same thing that happens every night.
"The umpire attendant rubs up literally thousands of baseball every year. A lot of times we get complaints from hitters that they're too dark, and we get complaints from pitchers that they don't have enough mud on them."
Alden Gonzalez is a reporter for MLB.com. Read his columns and his blog, listen to his podcast and follow him on Twitter. This story was not subject to the approval of Major League Baseball or its clubs.