Tribe extends streak, takes control of Wild Card race
Tribe extends streak, takes control of Wild Card race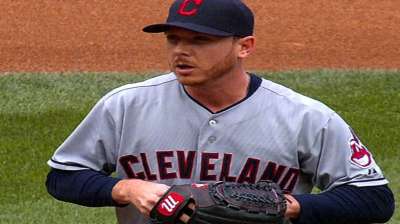 MINNEAPOLIS -- When this season began, and the Indians had hopes of quickly turning the page on last summer's forgettable showing, the goal was to find a way to play meaningful baseball games deep into the fall. Cleveland has achieved that to the full extent.
The Indians will play Game No. 162 with a place in October on the line.
On Saturday, the Tribe used a strong outing from lefty Scott Kazmir to roll to a 5-1 victory over the Twins, extending the Indians' winning streak to a season-high nine games. With the win, Cleveland moved into sole possession of the American League's top Wild Card spot and holds a one-game lead over both Tampa Bay and Texas in the standings.
Talk about taking it down to the wire.
"You hear the manager every year say, 'Every game's important,'" Indians veteran Jason Giambi said. "And you're like, 'Yeah, whatever. We play 162 of them.' Then you start looking back like, shoot, this game, that game. That's the beautiful thing about baseball. You can get hot at the right time and you can put yourself in contention."
Cleveland has done precisely that over the past month.
The Indians, who have won 20 games in September for the first time since 1948 and have won 14 of their past 16 contests, have assured that the worst outcome on Sunday would be a required tiebreaker situation come Monday. The Indians will also have a chance to clinch home-field advantage for the American League Wild Card Game, which is scheduled for Wednesday.
With a win on Sunday, the Tribe would finish this season with 24 more wins than the 2012 team. That would tie the 1986 Indians for the franchise's best year-to-year improvement, excluding strike-shortened campaigns.
"Terry Francona. Manager of the Year," Indians first baseman Nick Swisher said. "No doubt. Write that down."
There is no denying the impact Francona has had on the Indians since assuming the managerial chair last October.
Francona helped entice free-agents like Swisher and Michael Bourn to sign long-term contracts with Cleveland, and the manager immediately altered the atmosphere in the clubhouse. Now, Francona is on the cusp of potentially helping the Indians finish off this September surge with their first postseason berth since 2007.
Cleveland guaranteed that it will play beyond the 162-game schedule on the two-year anniversary of Boston's final loss of the 2011 season. That Sept. 28 defeat in Baltimore completed a historic collapse and marked Francona's final game at the helm for the Red Sox in his previous managing job.
Even with a Wild Card berth so close, Francona refused to look beyond Sunday's game in Minnesota.
"It's exciting. It's fun," Francona said. "I know I'm supposed to come up with some stuff to say, but it's just, you show up and play. We need to be one run better tomorrow and we'll go from there."
Following a rain delay that lasted two hours and 26 minutes, Kazmir led the way on Saturday with 11 strikeouts in six innings, ending with one run allowed on six hits for the Indians. The left-hander's lone setback came in the fourth inning, when Ryan Doumit reached on a leadoff single and later came around to score on a base hit to right field from Twins catcher Eric Fryer.
"I was able to attack the strike zone and command," said Kazmir, who has 43 strikeouts in 28 innings in September. "I feel like I keep saying this over and over, but it's the truth. I feel like I'm going out there and getting them in swing mode and, once I get two strikes, I have quite a few pitches that I'm able to set them down with."
It took some time, but the Indians lineup held up its end against Twins right-hander Cole De Vries. The second-year starter entered the afternoon with an 11.70 ERA, but he looked in control as he breezed through Cleveland's first 11 batters without relinquishing a hit.
Jason Kipnis brought an end to that run in the fourth inning with a two-out single to center field. Carlos Santana followed with his 20th home run, sending a 1-1 offering from De Vries over the seats in right field and bouncing off a walkway for a two-run shot that put the Indians ahead, 2-0.
"Carlos' swing was huge," Francona said. "That helped loosen up everything."
Cleveland continued its push with a three-run outburst in the fifth inning. Yan Gomes and Mike Aviles got the rally started with two outs, delivering back-to-back singles against De Vries. Michael Bourn, who missed the previous three games with a right wrist injury, followed by pulling a pitch off the wall in right field for a two-run triple.
On the play, Aviles sprinted from first base and slid into the plate as Fryer received the relay throw. Aviles slid under the initial tag attempt from the Minnesota catcher, but instant replay appeard to show Fryer recovering in time for the out. Home-plate umpire Larry Vanover saw things differently, ruling Aviles safe and helping Cleveland to another run.
Kipnis, who endured the 68-win season a year ago, added a run-scoring single to round out Cleveland's scoring.
"This is a lot better situation to be in," Kipnis said. "Guys are happier with this. Guys are having more fun with it. If you look around still and just watch, it doesn't feel like we're in a tight race. ... It's still a loose environment in here."
The Indians might not look like a team feeling the presure that exists in a postseason chase, but that does not mean they do not understand the magnitude of what is taking place.
"Losing 94 games to winning 90-plus," Swisher said. "Man, how could you not be super stoked about that? It's kind of one of those seasons that doesn't come along very often. For us, obviously we don't want to be that flash in a pan that just pops out one season. Just to be in the spot that we're in right now, I'm ecstatic."
Jordan Bastian is a reporter for MLB.com. Read his blog, Major League Bastian, and follow him on Twitter @MLBastian. This story was not subject to the approval of Major League Baseball or its clubs.